"It's not so bad. We have each other."
CCUSA CEO presents check to help efforts
During the first two weeks of the coordinated response to Hurricane Ian disaster relief, Catholic Charities, Diocese of Venice, Inc., has helped more than 50,000 people with supplies of water, food, tarps, blankets and much more.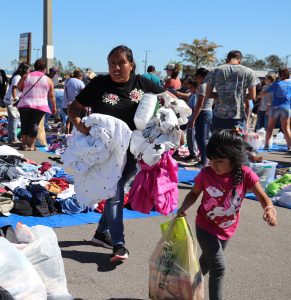 This outreach has been made possible by the direction of CEO Eddie Gloria, his team, volunteers and the guidance of Bishop Frank J. Dewane.
Disaster response sites have been set up in the hardest hit areas, particularly where local government help may have been lacking. At least 10 sites have been operating since the first days after Ian struck on Sept. 28, 2022.
As the true scope of the disaster revealed itself, and the needs of the community changed, Catholic Charities has been flexible in meeting the needs on the ground as the response is slowly transitioning from meeting urgent needs to disaster management – helping people with long-term needs.
Gloria credited Bishop Dewane and the overarching support of Catholic Charities USA, which has helped coordinate the disaster response with technical support and a high level of experience in these situations with staff who have dedicated their time to helping in many ways.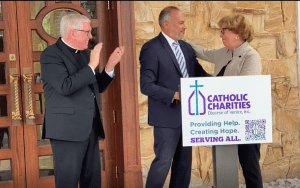 Catholic Charities USA President and CEO, Sister Donna Markham, OP, visited the Diocese of Venice on Oct. 12, 2022, to get an update on how the response is progressing.
Sister Donna met with Gloria and his team as well as with Bishop Dewane to discuss what is coming in the next week and months as the region recovers from Ian. She also offered words of encouragement to the Catholic Charities staff who were directly impacted by the hurricane.
In a ceremony at the Catholic Center in Venice, Sister Donna said disasters such as Ian strike different places at different times.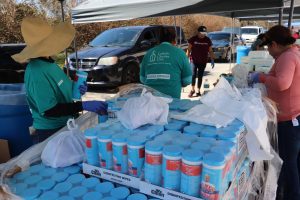 "Now it is your turn," Sister said. "We are here with the enormous generosity of a lot of people, who have helped us by sending in donations (through the CCUSA website). We take every single dollar from our donors and ensure they will go directly to the people affected by a disaster. In this case, in what I hope will be more to come, is an initial check for humanitarian relief in the amount of $500,000."
A roar of approval and applause accompanied this pronouncement as Gloria accepted the check.
Bishop Dewane expressed his gratitude for Sister Donna's presence and for the check noting that it will go a long way to helping to meet the needs of the community.
At sites across the region, Catholic Charities has been receiving tractor trailers full of water, food, tarps, blankets and every type of item imaginable. When the items arrive, teams of people help unload and then distribute the items by loading vehicles for grateful families.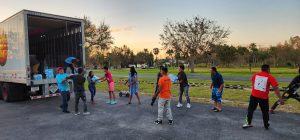 Arcadia was a site of total devastation. Many homes were damaged or destroyed by the fierce winds of Ian, but it was the flooding from the Peace River, which lazily flows through the western portion of the area that brought more destruction. The river rose to record levels and cut the city in half, that did most of the destruction.
"My house flooded," said Sam Jenkins of Arcadia at the Catholic Charities disaster response site at St. Paul Parish on Oct. 8. "I had five minutes to leave and even then, I couldn't get my car out fast enough, it stalled and is gone. Everything is gone."
Jenkins arrived at the Parish by foot, having slept at a friend's house the previous night and hoping to hear from a family member in Georgia to send him the money needed to get out of the area.
The town was cut off by the flood waters from the west, north and south, and more than a week after the storm, access was still limited.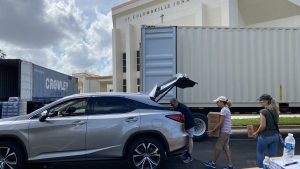 This is why the front parking lot of the Parish church, which sits on State Road 70, the main east-west road through the rural city, was a hive of activity as churches of all denominations brought clothing and emergency supplies for people to choose from.
Desperate parents, unsure where they would sleep that night, or in the future, selected clothing as the children chose donated toys and games or tried on new or gently used shoes and sneakers. Others had everything they owned crammed into vehicles.
Isabella Perez carefully went through the clothes and other items, picking a few shirts and pants for her three children. Her home flooded and the family of five was staying at a home with two other families.
"It is hard," Perez said. "The wind ripped our trailer apart, so we fled. When we tried to go back, it was completely underwater. I cried for 10 minutes while my children were given ice cream by some nice people at the edge of the river, about a half-mile from our home. Then we got back in the car and drove around. It is so wonderful that people have donated things for us to choose from. We are all okay and that is what matters. I know many who lost more, others who were hurt. It's not so bad. We have each other."
Also in the St. Paul parking lot was a team from the Anna Maria Oyster Bar, which brought 1,000 sandwiches and another group set up a barbecue smoker. Meanwhile, the Heart to Heart International Disaster Response truck was there to offer medical exams, free tetanus shots, as well as fillings prescriptions and providing mental wellness counseling.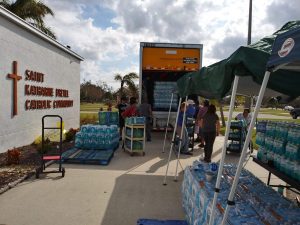 On the back side of the Parish church is the Catholic Charities disaster distribution site, which includes water, food, sunscreen, batteries, blankets, tarps, cleaning supplies and more. Trucks from all over resupply the site each day as the demand continues.
"This is just the beginning here," said Sister Martha Flores, M.H.M.L., the Parish Director of Religious Education who was overseeing the work and directing volunteers for different tasks. "So many people lost homes. If you didn't lose your home and you worked in farming, you probably lost your job. There are a lot of people hurting here."
Catholic Charities has Parish distribution points at St. Katharine Drexel in Cape Coral, Jesus the Worker in Fort Myers, San Pedro in North Port, St. Michael in Wauchula, and St. Leo Parish in Bonita Springs.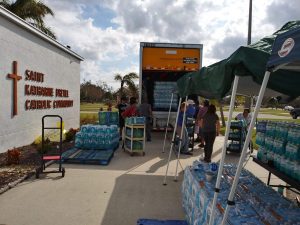 Gloria said having sites at these Parishes allows the community to come to a central point they trust, and the flexibility of Catholic Charities allows the organization to address needs on a moment's notice. This means that as areas got drinkable water and power back, the needs changed from emergency rations and water to food that can be cooked, as well as cleaning supplies and diapers.
"If there is a need and we don't have something there, we reach out to our disaster response partners to find a solution," Gloria said.
As Gloria noted earlier, the sites will transition into disaster recovery centers where support staff will directly help families address pressing needs more efficiently.
If you are in need
Please visit www.catholiccharitiesdov.org. There you will find an updated list of distribution points for supplies. This list is updated at the end of each day and will change often as the focus of the recovery shifts and the different needs are understood.
Monetary donations
For those interested in making a donation to the Diocesan response to Hurricane Ian, please visit www.dioceseofvenice.org/hurricaneian, or send a check to Diocese of Venice in Florida, ATTN: Hurricane Ian Relief, 1000 Pinebrook Road, Venice, FL 34285.
Volunteering, donating supplies
For those interested in volunteering or if you wish to bring needed supplies (food, water, diapers, new clothing/footwear for children and adults), you can go to Catholic Charities distributions points (www.catholiccharitiesdov.org). If you are driving into the hardest hit areas, gasoline supplies remain limited. Also, contact your local Parish to learn if a specific donation drive is taking place.
The Diocese of Venice extends its thanks to everyone for their continued prayers and outpouring of support as the recovery from Hurricane Ian continues.