In recent years, there has been a growing trend that schools, both public and private, offer students opportunities to engage in community service. For many, the experience helps to develop important skills such as teamwork and a sense of compassion, even during a Pandemic.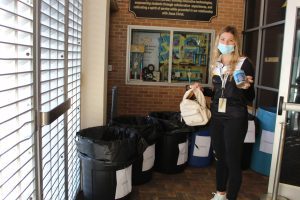 But for Catholic schools, community service is more than an admirable option or a nice addition to one's college application. Service activities are fundamental to Catholic education and core to Catholic discipleship.
At Bishop Verot Catholic High School in Fort Myers, community service is described as "One of the greatest ways to impact and improve the larger community… Verot's active service policy holds each student responsible for their role in changing society. Over the course of four years, students must complete a minimum of 100 Service hours centered on 'hands on' and direct experience with those in need."
Principal Suzie O'Grady said it is believed that when students are exposed to the injustices that surmount our society, they can truly identify with the marginalized, and seek change. As Verot's statement on community service continues, "Our hope is every student will have a life changing experience driving them to continue to serve the greater community beyond their time at Bishop Verot."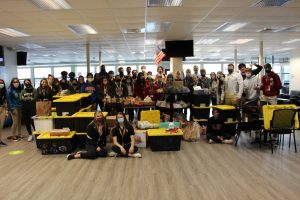 Each year, Verot students complete more than 25,000 community service hours. It is through the concept of service that students learn how much of a difference one person can make, but the difference an entire community can make is overwhelming, O'Grady said.
Father John Belmonte, SJ, Diocese of Venice Superintendent of Catholic Education, said at all 15 Catholic schools service to the community is a priority as it is important that all students not only be ranked by their academic successes, but by their engagement with the marginalized of our society.
"This is key to creating a Catholic identity for each Diocesan Catholic school," Father Belmonte said. "We want our community service policy to plant the seed of Faith and love in all the students, thereby reflecting the love of Christ in their schools and in their community."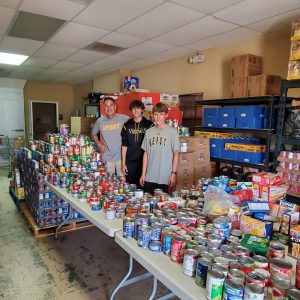 In recent months Bishop Verot students have worked on a number of school-wide efforts including a recent successful Lenten Charity Drive which collected thousands of food items for Catholic Charities and other area organizations. Students also regularly volunteer to help distribute food at the Catholic Charities Elizabeth K. Galeana Food Pantry.
The school also helped prepare PPE (personal protective equipment) packages for the United Way. Packages included hand sanitizer, masks and much more, and will be given to needy families throughout the area.
Two Verot students are currently leading a Freshman Class project to create graduation gift bags for each of The Immokalee Foundation's 60 graduating seniors, including a book, personalized poster, and fun items to celebrate the milestone in style.
At St. Andrew Catholic School in Cape Coral, a service project took a different focus as students created over 300 handmade Easter cards for the residents and workers at the Rehab and Healthcare Center of Cape Coral. Earlier in the year the students partnered with the Catholic Charities Senior Program to provide senior citizens with needed supplies.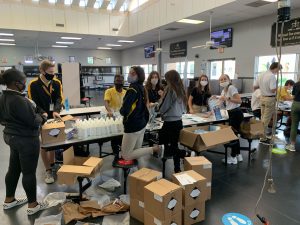 For the students at St. Elizabeth Seton Catholic School in Naples, the giving is done on a different level as the school remembers well the generosity of others who supported them in 2017, following the destructive Hurricane Irma. Therefore, when the school had a dress down day (a donation allows a student to opt out of wearing the school uniform) in March the $400 collected will go to a Catholic school in Texas impacted by the devastating winter storm.
Of course, these are just a few of the many acts of Christian which take place daily in Diocese of Venice Catholic schools throughout the year.
Father Belmonte said Diocesan students are continuing a long tradition with acts of service in a wide variety of settings so that the love and compassion of Christ may transform our world today.