The Blessed Mother Center at St. William Parish in Naples has been operating for nearly 10 months, but on March 5, 2023, the community came together for a dedication and open house.
Bishop Frank J. Dewane presided over the dedication and blessing of the new multi-purpose building, which is much more than a Parish Hall. The dedication included a blessing of the people and the building.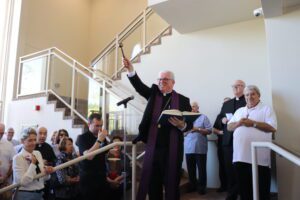 "This will be used as a catechetical center; the focus of your Parish activities, and a place where we may come to know one another and give witness to our faith," Bishop Dewane said during the ceremony. "It will be a place where adults and young children learn the Catholic Faith and deepen their commitment to live as Christ has taught us. We pray that the word of God may always echo from these walls."
The Bishop congratulated the gathered faithful for responding to the call of Jesus Christ with their support of the project and their presence as people of faith. He apologized for the delay in getting the building dedicated citing a combination of issues which pushed the date back many months.
Bishop Dewane also recognized the leadership of Father George Ratzmann, Pastor of St. William, who has led the Parish for 15 years, which has included building a new Parish church and now the Blessed Mother Center.
Father Ratzmann also thanked the people for their generosity, adding, "You made the church possible and this new building possible. You have made ministry viable in this area, not only for now, but for generations to come."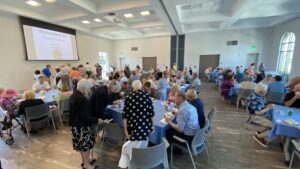 The 30,000 square foot Blessed Mother Center consists of two floors. The first floor includes 13 offices, a large conference room, a large auditorium (capacity for 300 for lectures and 150 for receptions), a small auditorium (capacity for 100 or 75 for receptions), a library with a pre-function area and catering kitchen. The second floor includes five meeting rooms, four additional meeting rooms for children's activities, a large family faith room and a teen room. The contractor was Thomas Abraham and Kane Wei of Abraham Construction Group, and the architect was Adrian Karapici, AIA, NCARB, of AM Design Group LLC.
Since its opening, Blessed Mother Center has been a hive of activity with many different Parish groups using the facilities. In addition, on the ground are two pieces of art: Mary Seat of Wisdom in the courtyard (by sculpturer Timothy Schmaltz), and Seated Nun (a statue by Philip Jackson).