Palm Sunday opens Holy Week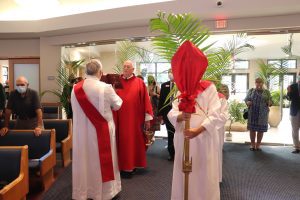 The opening of Mass on the Palm Sunday of the Lord's Passion, begins with the Procession with Palms and a reading of the Gospel of Mark (11:1-10), describing the scene of the entrance of Jesus into Jerusalem days before He was put to death and resurrected . This opening is followed by the blessing of the palms and marks the start of Holy Week with the Easter Triduum beginning at sunset on Holy Thursday and continuing until the Great Easter Vigil.
Easter Sunday Televised Mass
The Diocese of Venice in Florida will air the televised Easter Sunday Mass, for a full hour. The Mass can be viewed at 9 a.m. on the CW Network in Sarasota, Manatee, Desoto, Charlotte, Hardee and Highland counties, and at 10:30 a.m. on FOX4 in Charlotte, Lee, Collier, Hendry, Glades and Desoto counties. The Mass is also available on the Diocese of Venice website at www.dioceseofvenice.org/tvmass.
Livestream moves from Catholic Center to Epiphany Cathedral Parish
After more than a year of livestreaming the Mass from the Catholic Center, beginning April 1, 2021 the livestream of the daily and weekend Masses will be broadcast at 8 a.m. from Epiphany Cathedral Parish. You will still be able to find the Masses on the Diocese of Venice Facebook page found www.facebook.com/dioceseofvenice or at www.facebook.com/epiphanycathedral.
Bishop celebrates Mass for students in Fort Myers
Bishop Frank J. Dewane finished his round of celebrating Mass for students in Diocese of Venice Catholic schools with the latest stops on March 25, 2021, the Solemnity of the Annunciation of the Lord, at Bishop Verot Catholic High School and St. Francis Xavier Catholic School in Fort Myers.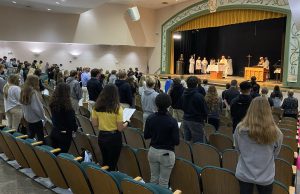 During these Masses, Bishop Dewane stressed how the Lenten Season is a time for prayer, fasting, and almsgiving as we prepare to celebrate the Paschal Mystery of our Faith. He also fielded questions from the eighth graders at St. Francis Xavier.
Divine Mercy Sunday Prayer Service
On Sunday, April 11, all are invited to join Bishop Frank J. Dewane in a Prayer Service for Forgiveness and Healing from pregnancy loss from 2:30 p.m. to 3:30 p.m. at Epiphany Cathedral, 350 Tampa Avenue West, Venice. The Prayer Service will also be livestreamed at www.facebook.com/DioceseofVenice. Contact Sylvia at 941-412-5860 or project.rachel@dioceseofvenice.org for any questions.
Bishop celebrates Mass for students at Ave Maria University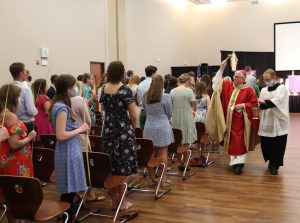 Bishop Frank J. Dewane celebrated Mass on the Vigil of Palm Sunday of the Lord's Passion, March 27, 2021, for the students and faculty of Ave Maria University. Following Mass was a community celebration of the Feast Day of the University, the Annunciation of Our Lord, moved from March 25 to the weekend to allow everyone to participate. The outdoor festivities included a barbeque dinner as well as musical entertainment.
Mass for Victims of Child Abuse April 16
April is Child Abuse Awareness Prevention Month, and in conjunction with the Secretariat of Child and Youth Protection of the United States Conference of Catholic Bishops (USCCB), the Diocese of Venice will hold a Mass for Victims of Child Abuse for the 14th consecutive year. Bishop Frank J. Dewane is the Celebrant of the Mass at 8 a.m. on April 16, 2021 at Epiphany Cathedral, 350 Tampa Ave. W., Venice. The Mass will be livestreamed through www.facebook.com/dioceseofvenice, and all are welcome to attend as we come together to pray for the victims of abuse.
Evangelizing Catechesis: Survey of the new Directory for Catechesis
The Diocese Institute for Catholic Studies and Formation is offering an online course surveying the new how-to guide, the Directory for Catechesis, published by the Vatican in 2020. This new edition of the Directory emphasizes how to incorporate evangelization throughout the entire process of catechesis. This course is for Directors and Coordinators of Religious Education, catechists, schoolteachers, adult faith formators, RCIA teams, parents — anyone who teaches the Faith. Co-teachers of the course are Dr. John Gresham, Director of the Institute for Catholic Studies and Formation, Anne Chrzan, Director of Religious Education for the Diocese of Venice, and Joshua Mazrin, Director of Evangelization for the Diocese of Venice. The six-week course starts April 19, 2021. There is a $25 fee to take the course. Visit the Institute website for more information and to register at www.insitute-dov.org or contact the director for more information: john.gresham@institute-dov.org.
Parent Cyber Security Presentation
The Offices of Family Life and Religious Education are hosting a free parent event "Protecting God's Children Online in a Hyper Digital Age." Cyber security expert Liz Repking will cover keeping kids safe from cyber bullying, online predators, sexting, online gaming, and how to help children create an escape plan when trouble arises. There are two opportunities to attend: April 14, 2021 at Our Lady of Lourdes Parish, 1301 Center Road, Venice, and April 15 at St. Francis Xavier Parish, 2057 Cleveland Ave., Fort Myers. Both presentations are from 6:30-8 p.m. Registration by April 10 is required for planning purposes at  https://dioceseofvenice.regfox.com/protecting-gods-children-online-in-a-hyper-digital-age.