Verot student recognized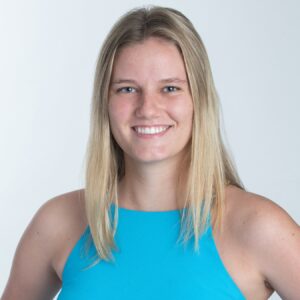 Bishop Verot Catholic High School student Maren Pfleger has been named one of approximately 5,000 candidates in the 2023 U.S. Presidential Scholars Program. Program candidates were selected from nearly 3.6 million students expected to graduate from U.S. high schools in the year 2023. Inclusion in the U.S. Presidential Scholars Program is one of the highest honors bestowed upon graduating high school seniors. Scholars are selected on the basis of outstanding test scores, superior academic and artistic achievements, leadership qualities, strong character, and involvement in community and school activities. A distinguished panel of educators will review these submissions and select approximately 600 semifinalists in early April.
Mooney grad receives kidney transplant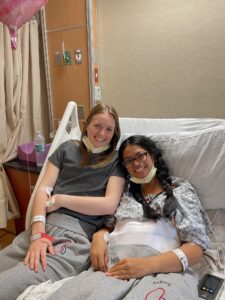 Candie Barrameda, Cardinal Mooney Catholic High School Class of 2016, received an early Valentine's Day present with a gift of a new kidney. In mid-2022, Barrameda was diagnosed with stage five kidney failure, but had no other health issues, which made her eligible for a transplant. At the time, Mooney posted a plea for donors on social media.  Sarasota resident and Pine View High School graduate, Kathryn Kochevar, heard  about Barrameda's plight and discovered she was a match and wanted to make a difference. The transplant took place at Tampa General Hospital in early February and was a complete success. Kochevar was released within a day, and Barrameda, who had been having four-hour dialysis treatments three days a week, went home less than a week later. Barrameda thanks her amazing team, Kochevar and her family, and everyone for their prayers.
Pregnancy help center reopens in Venice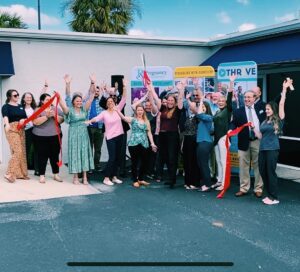 Pregnancy Solutions, a help center for pregnancy women with three local locations (Port Charlotte, North Port and Venice), had a grand re-opening of its Venice offices on Jan. 31, 2023. The location utilized creative options to continue serving women in need during repairs needed after Hurricane Ian caused water and flood damage in September 2022. Pregnancy Solutions' three locations served more than 1,300 in 2022 alone. A big thanks went out to the amazing staff and volunteers. Present for the reopening were Diocese of Venice Respect Life Director Jeanne Berdeaux and Father Shawn Monahan, OMV, assistant director of Our Lady of Perpetual Help Retreat Center in Venice. The Venice location is open Tuesday, Thursday and Saturday. If you would like a tour, please call 941-408-7100 or to learn more, please visit pregnancysolutions.org.
Bishop radio show focuses on Diocesan Eucharistic Congress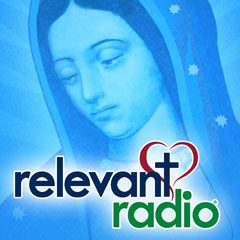 The Diocese of Venice Eucharistic Congress and Youth Rally on March 24 and 25, at the Caloosa Sound Convention Center and Luminary Hotel, 1375 Monroe St., Fort Myers, was the focus for Bishop Frank J. Dewane on his monthly radio program on Relevant Radio. "Witnessing Faith with Bishop Dewane" can be heard at 8:30 a.m. on the last Friday of each month (Feb. 24), on 106.7 FM and 1410 AM in Fort Myers and 93.3 FM and 1660 AM in Naples. The program is also available at https://dioceseofvenice.org/our-bishop/relevant-radio-podcasts. The February guests included Teresa Tomeo, a featured speaker for the March 25 Eucharistic Congress, and Father Timothy Anastos, the keynote for the March 24 Youth Rally. To learn more about the Diocesan Eucharistic Congress and Youth Rally, please visit https://dioceseofvenice.org/eucharistic-congress/.
Basketball team goes undefeated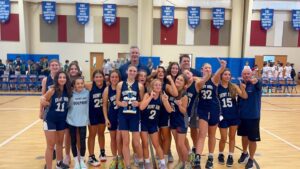 The St. Ann Catholic School varsity girl's basketball team in Naples just finished their season undefeated while also winning the Sunshine Athletic Conference. Way to go Lady Dolphins!
Seton students work on Lego STREAM project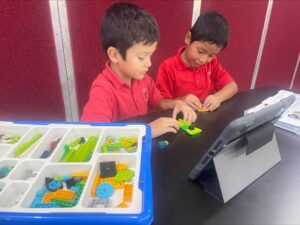 Second grade students at St. Elizabeth Seton Catholic School in Naples worked diligently on Feb. 17, 2023, to complete their first activity in the Lego WeDo 2.0 series. The students created Milo the Science Rover! The students had to apply the Engineering Design Process to complete the project. This is just one of many opportunities for Diocese of Venice Catholic school students at all levels to learn key STREAM (science, technology, religion, engineering, arts and math) skills through a comprehensive Lego robotics program. These projects challenge students to think critically, work together, and overcome obstacles to achieve a goal. STREAM is a faith-infused program which not only teaches meaningful skills but upholds Catholic values by teaching the principles of strength, utility and beauty.