St. Therese Parish in North Fort Myers celebrated its Patronesses Feast Day on Oct. 1, 2021, with a Mass and celebration, the first Feast Day since the Parish obtained a First-Class Relic of the Saint.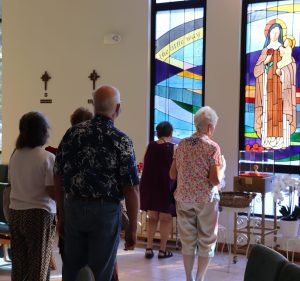 Father Jan Antonik, Parish Administrator, told a large gathering how honored and blessed the Parish was to have a First-Class Relic of St. Thérèse, something he strived to acquire since his appointment in early 2020. The relic was gifted to the Parish courtesy of Father Bob Kantor, Pastor of St. Agnes Parish in Naples, where it had been on display in the St. Agnes Adoration Chapel for many years. Bishop Frank J. Dewane approved and facilitated the transfer of the relic between the two Parishes
In North Fort Myers, the relic is now on display in front of a stained-glass window of St. Thérèse, and rests in a glass reliquary, the base of which has an engraved single rose and a plaque thanking Father Kantor and St. Agnes Parish.
"This relic allows us to be closer to our Patroness, St. Thérèse, who shared with us how to allow God to work through us using simple acts of kindness toward others and is an inspiration," Father Antonik said. "She was so blessed with wisdom and spirituality. What took St. Thomas of Aquinas decades and thousands of pages, St. Thérèse accomplished in her little book – her diary, "The Story of a Soul.'"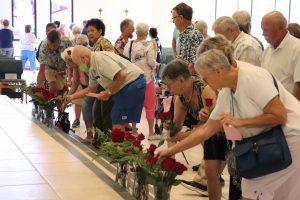 St. Thérèse was a Carmelite nun who was born in 1873. She entered a cloistered life at the age of 15, living in near obscurity at a convent in Lisieux, France and died at the age of 24. She was canonized in 1925 and in 1997 St. John Paul II proclaimed her a Doctor of the Church in light of holiness and the influence of her teaching on spirituality in the Church.
Also, known as "St. Thérèse of the Child Jesus and the Holy Face," "The Little Flower of Jesus" or "The Little Flower," she had a simple yet powerful message of doing small things every day and doing them well, which still resonates in the hearts of millions today. Her "Little Way" of allowing God to work through her life has become a guiding light for many.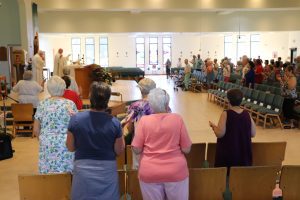 Following Mass, single roses were distributed for the faithful to give to others as a "little way" of spreading the Love of Christ to others. Many also paused to view the relic and/or light a candle. A reception was held as part of the Feast Day celebration.
"St. Thérèse means so much to me and to my whole family," Carmelita Moreno explained. "We prayed to 'The Little Flower' and it helped my niece overcome a childhood illness when we thought we would lose her. St. Thérèse's simple way also helps guide my own life, making it easier to overcome the burdens of the world."