For 10 days in late May and early June a group of young men and women gathered at Our Lady of Perpetual Help Retreat Center in Venice as they prepared to lead a new type of summer camp at eight different Parishes throughout the Diocese of Venice.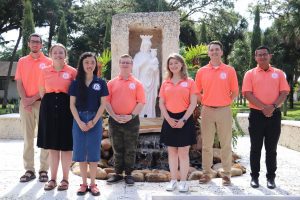 These missionaries will lead the Totus Tuus Summer Camp, dedicated to sharing the Gospel and promoting the Catholic Faith through catechesis, evangelization, Christian witness, and Eucharistic worship. This program assists parents and Parishes in the evangelizing and catechizing of their youth by supplementing the work they are currently doing.
"The goal of the Totus Tuus Summer Camp is to help young people grow in their understanding of, and strengthen their faith in Jesus Christ," explained Anne Chrzan, Diocesan Director of Religious Education. "Each day of the weeklong camp, the children and youth learn lessons about prayer, from the basics of the Our Father to the Luminous Mysteries of the Rosary."
The concept of this unique outreach was started in Wichita, Kansas in 1987 as a summer catechetical program and has grown into a weeklong summer camp which is now active in more than 50 Dioceses with the Diocese of Venice the latest to join in this effort. The program has a proven track record of inspiring active stewards, fruitful vocations and a lifelong love for the Church.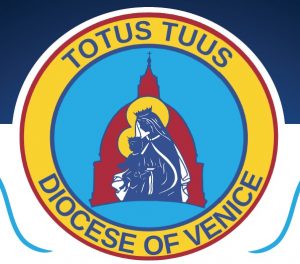 Totus Tuus is a Latin phrase meaning "Totally Yours." It was a motto of St. John Paul II, taken from St. Louis de Montfort's "True Devotion to Mary." It signifies our desire to give ourselves entirely to Jesus Christ through Mary.
Each Parish hosting the event will welcome children and teens from Sunday evening to Friday afternoon.  These sessions are divided into daytime camp for children from first grade through sixth, and evening retreats for teens seventh grade through recent high school graduates. The week is filled with faith, fun, and friendship and there are messy games, crazy skits, and music. The college-age leaders provide an authentic witness to the students.
Only one Parish hosts the camp each week. The Parishes hosting Totus Tuus this summer are: St. Katherine Drexel in Cape Coral, June 6-10; St. Agnes in Naples, June 13-17; Our Lady Queen of Heaven in La Belle, June 20-24; St. Catherine in Sebring, June 27-July 1; St. John XXIII in Fort Myers, July 11-15; St. Joseph in Bradenton, June 18-22; St. Elizabeth Seton in Naples, July 25-29; and St. Patrick in Sarasota, August 1-August 5.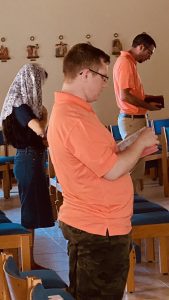 Additionally, Totus Tuus strives to bring an awareness of vocations in the young adults who serve as missionaries. Each missionary begins the day with morning prayer, praying the rosary and attending daily Mass.  These missionaries serve as teachers for the camp by leading a small group of children or teens each day with lessons and activities to enhance the theme of prayer.
From May 26 to June 6, the missionaries prepared and trained at the Venice retreat center structuring their studies around how the daily camp will progress. Hannah Tuong, of the Diocese of Tulsa, headed the training program.
The 2022 Totus Tuus missionaries are Sam Salyer of the Diocese of Gary, Kate Ihlefeldt, of the Diocese of Colorado Springs, Garrett Willie of the Archdiocese of St. Louis, and Marianna Evangelista of the Archdiocese of Denver. Additionally, assisting the missionaries will be Diocese of Venice Seminarians Juan Contreras, James Gates and Daniel Scanlan.
These missionaries were selected for their energy, enthusiasm, love of the Faith, commitment to spiritual growth, ability to work with a team and a desire to work with youth.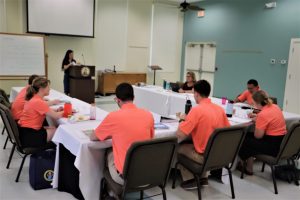 Ihlefeldt took part in Totus Tuus from second grade into high school and described it as the highlight of her summer. She loves singing, playing piano and guitar, reading, hiking, and of course, spending time with Our Lord.
"God is my nearest and dearest friend, and I could not imagine who I would be without Him," she explained. "One of the many passions in my life is bringing people closer to God, and I think the best way to do that is through the example and testimony of our own lives… The youth need this program now more than ever, and it's a huge blessing to be part of a team that is dedicated to that mission."
Slayer is an artist who loves images that give glory to God. While his goal is to help teach everyone he encounters how to fall in love with Christ, "as a missionary, I not only want to help those I teach. I want to have a heart that can be moved by what they teach me about my faith."
Chrzan said while many of the Parish Totus Tuus camp slots are full, some openings are available by contacting the individual Parish religious education office which can be found by visiting www. https://dioceseofvenice.org/find-a-parish/, For Further information regarding this program contact Anne Chrzan@chrzan@dioceseofvenice.org.