Naples – Nearly a million packages of underwear have been collected for needy children in Collier County since 1996 as part of the annual "Undy Sunday" campaign.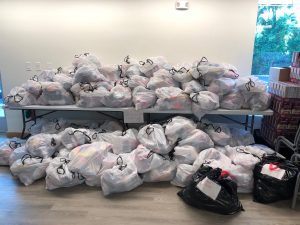 In its 24th year, the campaign garnered enough donations of new underwear and socks for boys and girls in Collier County Public Schools who would otherwise go without and still had enough extra to help additional programs, including sending donations to the hurricane ravaged Bahamas.
The chairpersons of the "Undy Sunday" campaign, Mike Egan, Tim Corcoran and Paola Pinillos, sent a letter of thanks to the more than 30 houses of worship (including all Catholic Parishes) that participated in the special collection in early August.
In that letter, the lofty goals of the campaign were met with a collection of an ample supply of underwear, socks and miscellaneous clothing and school supplies for the many needy elementary and pre-school children within Collier County.
Volunteers with Catholic Charities of Collier County sorted, labeled and packaged 35,000 items for delivery to 35 local schools, plus several social service organizations, including Catholic Charities, that assist needy women and children in our community. That roughly translates to more than 350,000 pounds of items collected and distributed. Each school has a program to identify students in need and confidentially provides the items throughout the school year.
In addition, the campaign was blessed with receiving an overwhelming number of socks again this year, allowing a donation of several hundred pairs to the "Laces of Love" Foundation to supplement their Shoes for Needy Kids Program. Adult items were split between several agencies. Additionally, 158 pounds of items were sent to the Bahamas through the Meals for Hope program.
Mary Shaughnessy, Catholic Charities District Director, explained that financial donations help support Catholic Charities programs which target children, including the weekend power pack, school supply distribution as well as Christmas gifts for children.
It is an annual struggle to remind people of the specific need for undergarments for children. The shocking reality is that poor families, even in Collier County, must choose between food and other bills over new clothing.
"We did not have any goals this year, but everyone came through and it is wonderful to have extra," explained Mike Egan of St. William Parish in Naples. "We were quite pleased that what was donated could reach so many in need."
One Collier County School administrator said that having access to new items such as "a clean pair of socks or underwear can make all difference in a child's life."
For those interested in continuing to support the efforts of "Undy Sunday," donations of underwear and gift cards are accepted throughout the year at Catholic Charities of Collier County, 2210 Santa Barbara Blvd., Naples, 34116, or call 239-455-2655.