The Homecoming Football Game for the Bishop Verot Catholic High School Vikings on Oct. 22, 2021 in Fort Myers was a rousing success when they beat their long-time nemesis Cardinal Mooney Catholic High School in Sarasota.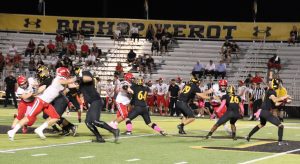 The Mooney Cougars took an early 10-0 lead, but the tenacious Vikings came charging back to claim victory with the final score of 28-17. For the season, the Vikings are now 5-3 and the Cougars are 6-3.
The Homecoming Game opened with a special dedication to Coach Mike Gill, a 1968 graduate of Verot and teacher. The rivalry game marked the 50th Homecoming for Gill as a teacher. He teaches woodshop and is a favorite among multiple generations of Verot students who have viewed him as a mentor (he has coached several sports) and someone whom they admire and respect.
Just before kickoff, Gill was greeted by the referees and then was given the honor of making the coin-flip to decide who would get possession of the ball first. A special coin was struck for the occasion, which had the school logo on one side and "Coach Gill's 50th Homecoming" on the reverse.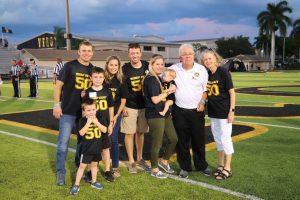 "This is all so humbling," he said while trying to control his emotions as his entire family, including grandchildren, and all of the Verot faithful cheered him on.
Before the game, it was announced that the school designated that one of its courtyard's would be named in his honor.
Among those congratulating Gill was Father John Belmonte, SJ, Diocese of Venice Superintendent of Catholic Education. Father Belmonte celebrated Mass for the Verot football team prior to the game and gave the Invocation. To be impartial, Father Belmonte spent the first half on the Verot sideline and the second half on the Mooney sideline.
Before the game was an Alumni tailgate and at halftime the Homecoming Court was presented. Homecoming Week included Mass, "Dressed to Impress Day," a field day, "Alien and Astronaut Day," game show competitions, a senior breakfast, Powderpuff football, and a traditional Homecoming Bonfire the night before the game.