By Father John Belmonte, SJ – Diocese of Venice Superintendent of Catholic Education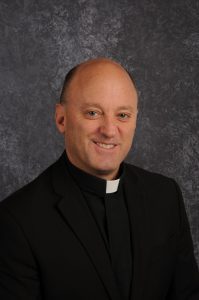 As happens in many families, our Catholic schools can display this year's report card proudly on the refrigerator! The nation's Catholic schools received their report card (in mid-November) as the results of 2022 National Assessment of Educational Progress, known as the Nation's Report Card, were released.
Catholic schools outpaced the public schools in overall average NAEP scores. Nationwide only 33% of public school fourth graders and 31% of public school eighth graders read at or above grade proficiency. Amid widespread declines in public school scores, Catholic school achievement was a bright spot. As Kathleen Porter-Magee said in the Wall Street Journal, "If all U.S. Catholic schools were a state, their 1.6 million students would rank first in the nation across the NAEP reading and math tests for fourth and eighth graders."
The story told by these test scores suggest an answer to why so many new families enrolled in Catholic schools during and after the pandemic: excellence and responsiveness to student needs matters to families. Simply put, our Diocesan Catholic schools managed the pandemic well with in-person classes, adapting better and more quickly than the public schools. The Diocese of Venice Catholic Schools were in-person throughout the 2020-21 and 2021-22 school years, never closing a school.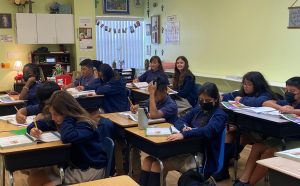 The academic benefits are clear. Across our Diocesan schools over the past two years, scores in Reading, Science and Math all increased. On average our Diocese of Venice students tested 3.6 years above grade level in Reading. 79% of our students scored above the 50th National percentile in Reading, Math, and Science.
In addition to strong test scores, despite the pandemic, Bishop Frank J. Dewane led the Diocesan schools by initiating the only Diocesan-wide K-12 STREAM (Science, Technology, Religion, Engineering, Arts, Math) curriculum and Robotics program in the country.
Parents have responded. During that two-year period, Diocese of Venice Catholic schools have enjoyed a 25% increase in enrollment.
Beyond a very good report card and innovative curriculum, we can be especially proud that our teachers, principals, and pastors who all stayed focused on our mission to teach Christ by leading young people to the "yes" of faith.
Father Belmonte can be reached at 941-484-9543 or belmonte@dioceseofvenice.org.