Principals from the 15 Catholic schools of the Diocese of Venice gathered for a Principal's Institute on Aug. 26, 2022, at St. John XXIII Parish in Fort Myers.
During this gathering, which was led by Jesuit Father John Belmonte, Diocesan Superintendent of Catholic Education, and included presentations by Jennifer Falestiny, Diocesan Curriculum Specialist, a broad spectrum of topics was covered.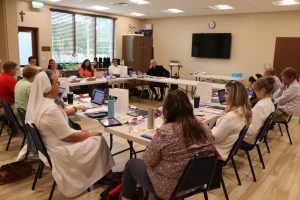 Among items discussed were presenting a vision for excellence in Catholic schools, updates on enrollment efforts, curriculum standards and additional initiatives and updates on devotional projects that will be unveiled in the coming weeks.
The day began with prayer, followed by an exercise called "Sword-of-Excited." This was when the principals had the opportunity to share/brag to their colleagues about all of the new and exciting things taking place at their respective schools.
Chief among the excitement was the increased enrollment, with some schools seeing record numbers. Schools have been creative in accommodating the larger numbers through the renovation of classrooms and open spaces or by rethinking the usage of what exists to accommodate a new, more progressive and engaging learning environment while remaining centered in Christ. As a result of the higher enrollment, several schools expanded existing bus service, while one school started a new service as a way to better serve the needs of the students as well as the parents.
In areas where a classroom or area was getting worn down after years of use, upgrades were made, often allowing for a greater use of technology and installation of new desks and study areas. Several principals reported aesthetic improvements as well, including new exterior paint and upgrades to outdoor areas used for play, dining and other activities. Other improvements included new interior or exterior paint jobs.
A key focus of the meeting was to review with the principals the vision of Catholic education in the Diocese. The principals will then pass along that knowledge to school faculty and staff.
As part of the vision for excellence the principals were called to continue efforts to promote a vibrant Catholic culture, cultivate leadership, create and implement a strategic plan, support unity in mission, enhance communication, make data-driven decisions, place Gospel focus on greatest needs and most vulnerable, and much more.
Falestiny spoke about curricular standards, improving structural methodology, as well as developing Catholic culture, academic, and professional goals at each school.
Another focus was on the STREAM (Science, Technology, Religion, Engineering, Arts and Math) curriculum. This curriculum, guided by "The Gifts of Christ: Truth, Beauty, Goodness, Affability, Fortitude, Humility, and Prudence," grew out of a robotics program, and has expanded to enhance the spiritual and academic opportunities for all Diocese of Venice Catholic school students.
This STREAM approach, fully supported through the generosity of Bishop Frank J. Dewane, places students ahead of the curve in primary fields while continuing to promote core Catholic virtues by helping students to develop cognitive thought processes and gain skills such as leadership, communication, complex problem solving, teamwork and creativity. Falestiny stressed the need for all teachers to be implementing parts of the core curriculum with STREAM-based projects and lessons.
Father Belmonte celebrated Mass for the group and later introduced the idea of a new devotional project which will center on the Holy Eucharist. The goal of this project, which will be starting by October, will help students learn about the Blessed Sacrament in an age-appropriate way and help them understand why this Real Presence is the source and summit of the Catholic Faith. This is undertaken in keeping with the National Eucharistic Revival, a three-year grassroots effort of the U.S. Bishops to increase a devotion and belief in the Real Presence of Jesus Christ in the Eucharist. Several Diocesan events are in the planning stages as part of this national effort.