When entering any of the 15 Diocese of Venice Catholic schools you will find a bustling hive of activity, and you will see images of Christ and the Blessed Virgin Mary visible everywhere.
The children, in their uniforms – whether it is sports jacket, tie and slacks, or a polo shirt and tan pants – are smiling as they go from classroom to classroom eager for the next lesson.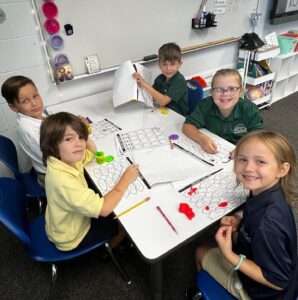 In the classrooms, the students work at desks or in labs being challenged to learn in a way that is both enriching and fun: this is often done in a cooperative environment.
All Diocesan Catholic schools work conscientiously to provide Christ-centered learning experiences that are transportable to the real world, and to provide the opportunity for children to develop life-long learning skills and to be successful beyond the classroom.
Jesuit Father John Belmonte, Diocesan Superintendent of Catholic Education, said the 2023-2024 Academic Year is going to be exciting for everyone as enrollment has topped more than 6,200 students. That is an increase of more than 30 percent since 2020.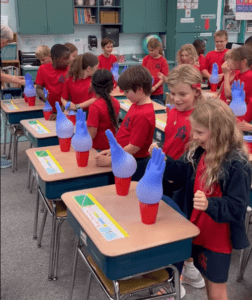 "We are full up with every school having some sort of waitlist," Father Belmonte said. "There has been a focused effort to let the community in on the secret that Diocese of Venice Catholic Schools provide a top-notch education at all grade levels. There are exciting things happening in our schools and families are taking notice."
While some of the enrollment increase has been due to the expansion of school choice scholarships through the Florida Step Up For Students program, Father Belmonte said it is much more.
Most crucially has been the support of Bishop Frank J. Dewane with promoting a variety of different initiatives to help bolster enrollment in the past several years. This includes a curriculum called "The Gifts of Christ: Truth, Beauty, Goodness, Affability, Fortitude, Humility, and Prudence," a robotics program, expanding the scope of the STREAM model (science, technology, religion, engineering, arts and math), into the classroom.
"These new initiatives, which are being implemented in every Diocesan Catholic school, ensure that each of the students receives the educational experience that parents have come to expect from the Diocese," Father Belmonte explained. "That is a quality education that helps to build the mind, body and spirit, all focused on building up the glory of God in the world."
Bishop Dewane said the increased enrollment is impressive and that he is humbled knowing that more families are putting their trust in the Diocese to educate their child.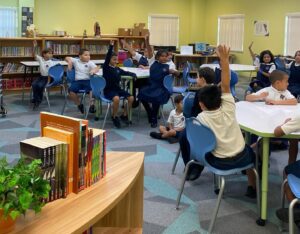 "I want to thank all of the parents who have put their confidence in Diocesan Catholics schools, whether they are new to our schools or have been connected to our schools for many years," Bishop Dewane said. "We have gained this trust by having Christ at the center of everything. We accomplish this through our comprehensive 'Gifts of Christ' initiative which enhances the faith and academic life of the students and the entire Diocesan school community."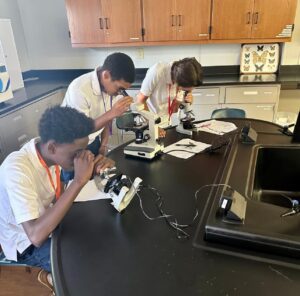 This initiative creates a strong culture by providing each student a Catholic world view and building moral character that continues to help develop the creative imagination of each student.
The result is that Diocesan Catholic schools are outstanding in placing students ahead of the curve in primary fields while continuing to promote core Catholic values by helping students to develop cognitive thought processes and gain skills such as leadership, communication, complex problem solving, teamwork and creativity.
Getting the word out about the great things happening in Diocesan Catholic schools has meant that Father Belmonte and his team have been relentless in raising awareness about the widespread availability of school choice and education choice scholarships. During enrollment season in the spring, Father Belmonte said his office texted and emailed 1 million messages to Catholic families within the borders of the Diocese.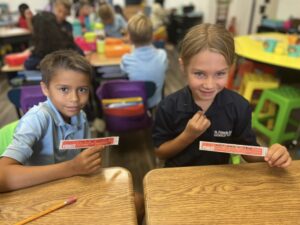 "People are saying, 'I can't believe you're communicating with me on my cell phone,'" Belmonte said.
Clearly, the outreach efforts are working. And there are no plans to pause.
The Diocese is in the process of converting one of its schools, Incarnation Catholic School in Sarasota, into a classical school, in response to growing parental demand for that kind of rigorous curriculum. In doing so, Incarnation will join Donahue Academy of Ave Maria Catholic School in Ave Maria as a classical Catholic school.
Across the Diocese, the schools are increasing academic standards while focusing on developing a strong "Catholic School Culture."
"This culture is the vision, values, systems, language, expectations, behaviors, and beliefs that increase a school's and Diocese's chances of accomplishing the strategy of fulfilling its mission: to introduce the world to its Savior," Father Belmonte said. "That is at the core of what we do, each and every day, and judging by the enrollment numbers, the parents value that by entrusting their children to our schools."
For more information about Diocesan Catholic schools, please visit www.dioceseofvenice.org/education.