Computers, robotics and Legos make learning fun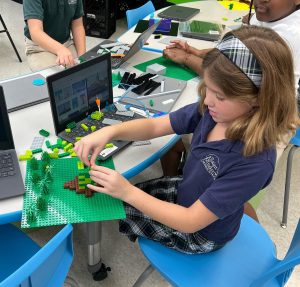 St. Andrew Catholic School third grade students learned about landmarks on April 6, 2022, in Cape Coral. To do this, they researched various landmarks on their computers and then, with their new Robotics programing software, used their Lego kits to bring what they learned to life. This is another example of a cross-curricular activity using the STREAM (Science, Technology, Religion, Engineering, Arts and Math) model.
Fresh salsa made from school garden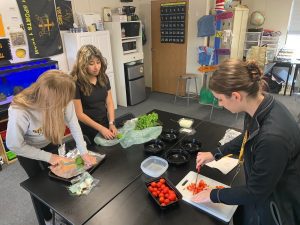 The Bishop Verot Catholic High School Environmental Club members enjoyed the fruits of their labor with homemade salsa in Fort Myers on April 17, 2022. Each of the ingredients were cultivated from the school garden. The results were tasty.
Schools, Catholic Charities in northern counties to benefit from Giving Challenge
Diocesan Catholic schools and programs of Catholic Charities in Sarasota, Manatee, Charlotte, and DeSoto counties will be beneficiaries of the 2022 Giving Challenge, from noon April 26 to noon April 27, 2022. The Giving Challenge is presented by the Community Foundation of Sarasota County. The giving is being augmented by The Patterson Foundation which will match all donations between $25 and $100. All donations made during the 24-hour Giving Challenge are unrestricted gifts to the nonprofit organization of your choice. You can visit www.givingchallenge.org to search for participating organizations. Note that many of the organizations also have Challenge Matches from various supporters. These matches serve to multiply the value of individual donations. Schools participating in the 2022 Giving Challenge include: Cardinal Mooney Catholic High School, Epiphany Cathedral Catholic School, Incarnation Catholic School, St. Mary Academy, St. Martha Catholic School, St. Joseph Catholic School, and St. Charles Borromeo Catholic School. In addition to Catholic Charities, other organizations within the Diocese that are part of the Giving Challenge include the St. Joseph Food Pantry, St. Vincent de Paul – St. Joseph Conference Bradenton Inc., as well as the Society St. Vincent de Paul – Ss. Peter and Paul the Apostles Conference.
Treasures of the Church coming to Diocese
An Exposition of Sacred Relics will take place in several locations within the Diocese of Venice and elsewhere in Florida in the month of May. Each evening begins with a presentation and teaching on relics which features the catechetical and spiritual basis for the Walk with the Saints where over 150 relics will be displayed. In the Diocese of Venice, the following dates and locations are available for all to attend: May 9, Incarnation Parish, 2929 Bee Ridge Road, Sarasota; May 10, St. Katharine Drexel Parish, 1922 SW 20th Ave., Cape Coral; May 11, Ave Maria Parish, 5088 Annunciation Circle, Ave Maria; May 12, St. Elizabeth Seton Parish, 5225 Golden Gate Parkway, Naples. Each exposition will begin at 6:30 p.m. and there is no fee to attend. For further information please visit www.treauresofthechurch.com.
Students and parents help Needy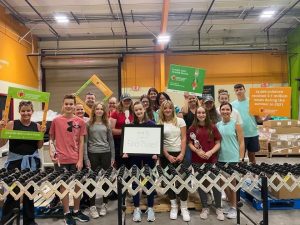 During a day off from school on April 18, 2022, students and parents from St. Martha Catholic School in Sarasota volunteered to help pack 728 food boxes at All Faiths Food Bank in south Sarasota. This outreach, during a rare weekday off from school during the Monday within the Octave of Easter, reflected well the commitment to service Diocesan Catholic schools instill in its students and families. Great job everyone!
Breakfast with Bishop Joseph Coffey
The TMIY (That Man is You) Men's Ministry of Ave Maria Parish is hosting a breakfast with Most. Rev. Joseph L. Coffey, Auxiliary Bishop of the Archdiocese of the Military Services, at 8:15 a.m., May 13, 2022, in the Parish Hall at 5068 Annunciation Circle, Ave Maria. Bishop Coffey will speak on "The Causes of Canonization of Military Chaplains Father (Vincent) Capodanno and Father (Emil) Kapuan." There is no cost or registration required. For more information, call Dom Micillo at 904-536-1480.
Port Charlotte school hosts first responders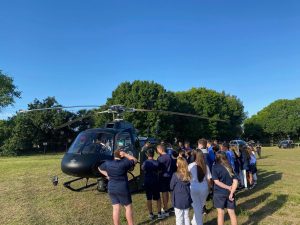 St. Charles Borromeo Catholic School in Port Charlotte was swarmed with first responders and their various emergency response vehicles on April 13, 2022. There was no emergency, in fact the first responders were present to give the students a variety of public safety demonstrations. Students were treated to a visit from the Charlotte County Sheriff's Office, including helicopter landing on the athletic field, K-9 units, and more. Also present were representatives from Charlotte County Fire and EMS, Charlotte County Public Safety, Florida Highway Patrol, Florida Fish and Wildlife and Florida Department of Highway Safety and Motor Vehicles. The day also included an opportunity for the students to thank the first responders for keeping the community safe.
Picnic tables installed at Bradenton school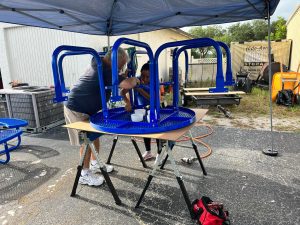 April 13, 2022, was a scheduled day off at St. Joseph Catholic School in Bradenton. However, the campus was busy as volunteers and the maintenance team assembled and moved 22 new picnic tables into the courtyard. The hard work paid off and when students and teachers returned on April 19, they received a pleasant surprise as there are new places for outdoor study, projects, lunch and relaxation.
Catholic athletes continue to excel
Teams from Bishop Verot Catholic High School earned both girl's and boy's tennis team district titles on April 13, 2022, in Fort Myers. Meanwhile, the Cardinal Mooney Catholic High School boy's lacrosse team earned a district title on April 15. The Mooney girl's lacrosse team defeated the Verot girls in the district playoffs on April 11.
Neumann seniors reflect on high school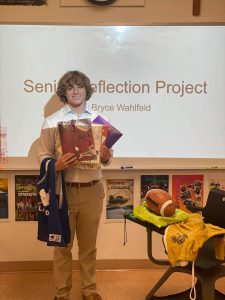 Scientium Veritatis ~ Senior Reflection Day at St. John Neumann Catholic High School in Naples was April 19, 2022. The seniors presented before the faculty and staff their reflection projects, which called for them to dive deep and reflect on their last four years and the growth they have experienced. Students focused on Don Bosco's Oratory (Home, School, Playground and Church) while showcasing important artifacts from their high school years.
OLPH Day of Prayer in May
Our Lady of Perpetual Help Retreat Center's final Monthly Day of Prayer Retreat for the season will be Sunday, May 8, 2022, and Wednesday, May 11. The cost for each retreat is $40 and includes a continental breakfast, two conferences, lunch, adoration, and Mass. The conference topics are the same for both sessions. The final Group retreat for the season is the Ignatian Preached Retreat scheduled for May 20-23. The cost is $460 and includes a private room and all meals. The Fall 2022 private retreat schedule is now available on the OLPH website and includes 3-day, 5-day, and 8-day directed retreats on their beautiful campus. To learn more about each retreat and to register, please visit: www.olph-retreat.org or call 941-486-0233. OLPH is located at 3989 South Moon Drive, Venice.
9th Annual Marian Eucharistic Conference in May
All are invited to the 9th Annual Marian Eucharistic Conference May 13 to May 15 at Ave Maria University, Ave Maria. The theme is "Do Whatever He Tells You." Featured speakers will include Auxiliary Bishop Joseph Coffey, of the Archdiocese of the Military Services, Father Larry Richards, Father Rick Martignetti, Deacon Dr. Mark Miravalle, EWTN's Steve Ray, and Johnnette Benkovic plus music by Martin Doman and the AMU Band. In addition to the talks, the Conference will include a Rosary Walk, Holy Mass, Benediction, and more. The cost is $180 per person and includes lodging, meals and conference fee for the weekend. For more information visit www.aveconferences.com,call 239-348-4725 or email aveconferences@gmail.com.