Faithful gathered at Parishes throughout the Diocese of Venice for a celebration of the Paschal Triduum (April 14-17, 2022).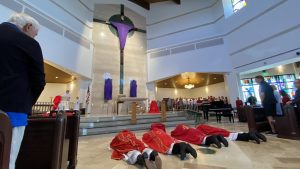 The Paschal Triduum of the Passion and Resurrection of the Lord begins with the evening Mass of the Lord's Supper (Holy Thursday), has its center in the Easter Vigil, and closes with Vespers (Evening Prayer) of the Sunday of the Resurrection (Easter).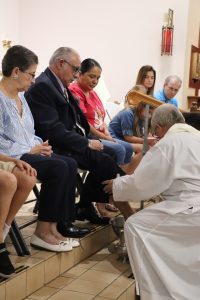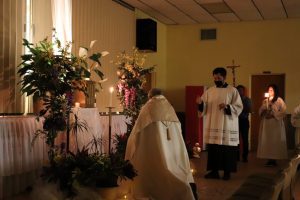 The Mass of the Lord's Supper at St. Catherine Parish in Sebring included the commemoration when Jesus Christ established the Sacrament of Holy Communion prior to His arrest and crucifixion. It also observes His institution of the priesthood. This Liturgy included the presentation of the oils blessed and consecrated by Bishop Frank J. Dewane during the April 12 Chrism Mass, at Epiphany Cathedral in Venice, which will be used for the Sacraments in the Parish throughout the year.  Later was the traditional washing of the feet, reenacting Jesus washing the feet of the Disciples. Following the Prayer after Communion, the Mass concluded with a procession to transfer the Holy Eucharist to the place of repose in the Parish Hall. This procession led out the main doors of the church and to the hall. This action left the tabernacle vacant until the Easter Vigil.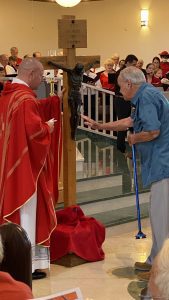 On Good Friday of the Lord's Passion, the faithful at St. John the Evangelist Parish in Naples participated in the Liturgy which included the reading of the Passion from the Gospel of John. Next was the presentation of the cross, brought forth by the priest and unveiled as the priest sang: "This is the wood of the cross, on which hung the salvation of the world," and the congregation responded: "Come let us adore." The faithful were then encouraged to come forward to venerate the cross. This was done by either touching, bowing, or genuflecting.
Either prior to, or after, the Good Friday Liturgy, many Parishes hosted the Stations of the Cross, sometimes led by children or including a dramatic retelling. (See related story on Page 3.).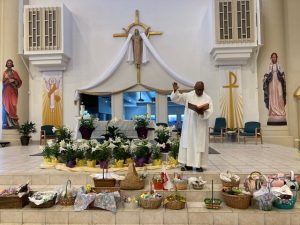 On Holy Saturday, the only Mass of the day is the Easter Vigil, which begins in darkness. However, several Parishes did host a blessing of the Easter Baskets/food. This custom traditionally blesses food to be consumed at the first meal of Easter.
During the Easter Vigil, the Paschal Candle was lit and catechumens and candidates received the Sacraments and entered fully into the Catholic Faith. This year 397 did so throughout the Diocese.
On Easter Sunday, several Parishes celebrated Mass at sunrise while all added extra Masses to accommodate the increased numbers common for this holiest of days.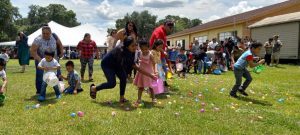 Many Parishes also hosted fun for children which often included Easter Egg hunts.
St. Michael Parish in Wauchula hosted their Easter Festival after the final Easter Sunday Mass. There, hundreds of plastic eggs with goodies were scattered across the lawn for eager children to pluck up, while 300 Easter baskets filled with donated items were distributed to families.