Mooney football team hears from coaching legend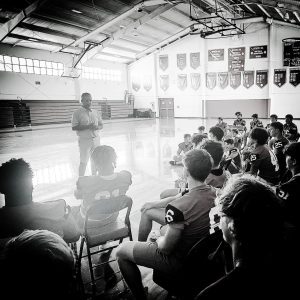 The Cardinal Mooney Catholic High School Football Team was both humbled and honored to have had Coach Urban Meyer give an inspirational talk before their Preseason Classic Game against Seffner Christian in Sarasota on Aug. 19, 2022. Meyer's is a three-time national championship college football coach, twice as head coach of University of Florida and once with Ohio State University.
Gliders fly through classrooms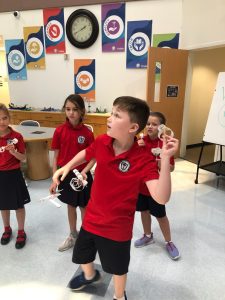 Fourth graders at St. Mary Academy in Sarasota had fun with their latest STREAM (Science, Technology, Religion, Engineering, Arts and Math) challenge on Aug. 19, 2022. Their task was to build 3-hoop gliders, alternating the location of the hoops on each glider, and then let them fly. Each glider flew to determine which design performed the best and traveled the farthest. This was a lesson which challenged the students to think creatively and build a glider from paper and then see the results of their hard work.
Verot track and field champ receives ring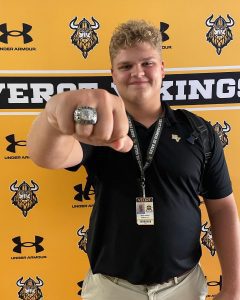 Bishop Verot Catholic High School senior Wyatt Whalen received his State Championship Ring on Aug. 19, 2022, in Fort Myers. Whalen took the Class 2A shot put title with a throw of 16.32 m (53 feet 6 ½ inches) during the Florida High School Athletic Association Track & Field State Championship May 11 -12, 2022, at the University of Florida in Gainesville. Whalen also took third in the discus with a toss of 46.36 m (152 feet 1 inch).
Eucharistic Conference in September
Inspired by the National Eucharistic Revival movement, St. Elizabeth Seton Parish in Naples is creating the opportunity for people to learn more about Christ's presence in the Eucharist. The one-day Eucharistic Conference is 9 a.m., Saturday, Sept. 24, 2022. The day features talks and worship music in both English and Spanish. There are sessions only in Spanish at the same time as the only English sessions followed by Eucharistic worship in both languages. Father Casey Jones, Pastor of St. Elizabeth Seton, and Jon Niven, Music Director at Seton, are hosting the English track. Special guests Juan De La Rosa, Director de la Renovación Carismática and Fernando Torres, Ministerio Agnes Dei Líder de Adoración, both from the Archdiocese of New York, are hosting the Spanish sessions. The day will end with a bilingual Vigil Mass at 4:30 pm. Breakfast and lunch are provided. Cost is $10 per person. Registration is on Seton's website, www.StElizabethSeton.org. The Parish is located at 5225 Golden Gate Parkway, Naples. Please call 239-455-3900 for any additional information.
Students visit Venice retreat center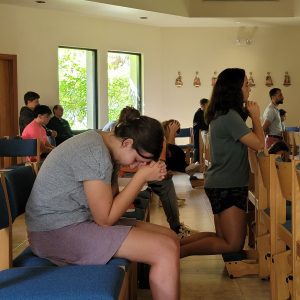 Eleventh grade students at Donahue Catholic Academy of Ave Maria Parish in Ave Maria spent time on Aug. 18, 2022, at Our Lady of Perpetual Help Retreat Center in Venice as part of a retreat. The students prayed together, had some fun and learned about how they need to hear the call of the Lord in their lives. Ave Maria Parish Pastor Father David Vidal celebrated Mass for the teens.
Students have a ball with robotics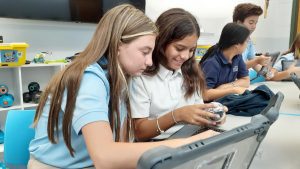 At St. Andrew Catholic School in Cape Coral, students are working hard to improve their coding skills during a robotics class on Aug. 22, 2022. This specialized skill is being learned as part of a broader STREAM (Science, Technology, Religion, Engineering, Arts and Math) curriculum. This curriculum, called, "The Gifts of Christ: Truth, Beauty, Goodness, Affability, Fortitude, Humility, and Prudence," is growing out of a robotics program which broadens the opportunities for each student. The coding skills learned at St. Andrew enabled the students to perform various fun tasks with a Sphero Bolt Robot.
Ave Maria men's program returning
The Ave Maria Parish "This Man Is You!" interactive men's program is returning for weekly meetings beginning Saturday, Sept. 17, 2022, in the Parish. The program combines the best research from science with the teachings of the Catholic Faith and the wisdom of the saints to develop the vision of man fully alive. By honestly addressing the pressures and temptations that men face in our modern culture, "That Man Is You!" seeks to form men who will be capable of transforming homes and society. The theme for the year is "Thy Kingdom Come: Claim Your Royal Dignity and Inheritance." The schedule includes 7 a.m. breakfast, with a weekly presentation from different speakers, small group discussions, concluding with Mass in the Parish church at 9 a.m. For more information and to register, please contact Dr. Charlie Thomason at drcharlie@snet.net or 860-460-7195.
Sarasota Laps for Life Oct. 8
Join the Sarasota Laps for Life 5K on Siesta Key Beach from 8 a.m. to 10 a.m., Saturday, Oct. 8, 2022. This year the Knights of Columbus are running to benefit SOLVE maternity homes in Bradenton, Sarasota and Englewood. SOLVE provides cost-free housing, counseling and support for women and teens with unintended pregnancies. Why run? Promote a culture that encourages life in abundance by providing the support and resources available for both mother and child so they can flourish. Join us as we celebrate life in abundance! See www.srqlapsforlife.net for details and registration.
Priest appreciation dinners coming soon
The Venice Diocesan Council of Catholic Women invites all to one of two Priest Appreciation Dinners the group is hosting. The dinners are intended to honor all priests serving in the Diocese. The first dinner is 6 p.m. – 9 p.m., Friday, Sept. 16, at Our Lady of Lourdes Parish Hall, 1301 Center Road, Venice, while the second is at the same time on Friday, October 7, at Our Lady of Light Parish, 19680 Cypress View Drive, Fort Myers. The dinner is $45. For those interested in attending either dinner, please contact Ellen Bachman at 941-721-7393 or pennyln99@aol.com.
First Responders Mass
The Knights of Columbus Saints Cosmas and Damian Council 13341 is honored to sponsor the First Responders Mass at 1 p.m., Saturday, Sept. 10, Our Lady of the Angels Parish, 12905 E. State Road 70, Lakewood Ranch. The Mass will honor the work of public safety personnel, including law enforcement officials, firefighters, and emergency medical service personnel. This Mass is a way to recognize the sacrifice of first responders and to remember those who have given their lives in service to their communities. All are welcome.
40 Days for Life Fall Campaign begins soon
The Fall Campaign of 40 Days for Life begins Sept. 28, 2022, and ends Nov. 6. Check with your Parish coordinator to join your Parish's day on the sidewalk or go to www.40daysforlife.com (look under the locations tab for Sarasota or Fort Myers). Your presence can be a powerful sign to women in need that there are better options available. Questions? Contact Jeanne Berdeaux at Berdeaux@dioceseofvenice.org or 941-374-1068.
Support CCW Seminarian Fund
Support, encourage and educate future priests through the Venice Diocesan Council of Catholic Women Seminarian Fund. Join the VDCCW in celebrating Priesthood Sunday on Sept. 25, 2022, in a special and lasting way by sending your Parish a Seminarian Fund "IN HONOR OF" card. This is a gift that keeps on giving. The Diocese is currently educating 13 men in various seminaries and a donation of any amount would be a great help (The donation amount will not be revealed to the recipient. To take part, please send your donation, made out to VDCCW Seminarian Fund (plus $1 to cover postage and printing) to: Cornelia Zanetti, Seminarian Fund Guardian, 5808 Gulf Drive #204, Holmes Beach, FL 34217. If you have any questions, email Cornelia Zanetti at corniez@aol.com.