Appointments
After consultation, Bishop Frank J. Dewane announces the following:
Father Jayabalan Raju, Parochial Vicar of Epiphany Cathedral Parish, Venice, is welcomed to the Presbyterate of the Diocese of Venice and is incardinated into said Diocese, effective April 22, 2022.
Father Fausto Stampiglia, S.A.C., V.F., retired as Pastor of St. Martha Parish and other Diocesan responsibilities, effective May 14, 2022, and thus, is relieved of his duties as Pastor of St. Martha Parish.
Father Jerzy (George) Suszko, S.A.C., is appointed as Pastor of St. Martha Parish, effective May 14, 2022. At the same time, he is relieved of his duty as Parochial Vicar at St. Martha Parish.
Father Marcin Koziola, is relieved of his duties as Administrator of Holy Cross Parish, effective May 2, 2022.
Father Kristian Villafaña, is appointed as Temporary Administrator of Holy Cross Parish, effective May 2, 2022.
Ordination to the Permanent Diaconate June 18
All are invited and encouraged to attend the Ordination to the Permanent Diaconate for the following candidate: Craig Dutka of Holy Cross Parish in Palmetto. The Ordination will be held at 10:30 a.m., Saturday, June 18, 2022, at Holy Cross Parish, 506 26th St. W., Palmetto. A reception in the Parish Hall will follow.
Sarasota Beach Volleyball team State Champs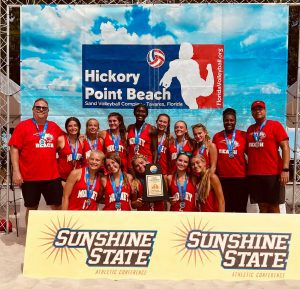 Congratulations to our Cardinal Mooney Catholic High School Girls Beach Volleyball team from Sarasota, they are State Champions for the Sunshine State Conference! The team beat Merritt Island High School on April 30, 2022, at Hickory Point Beach in Taveras. The team then fell in the quarterfinals of the FSHAA State Tournament on May 7, 2022, at Florida State University in Tallahassee. The team finished the season with a 22-2 overall record.
Fort Myers tennis team takes second at State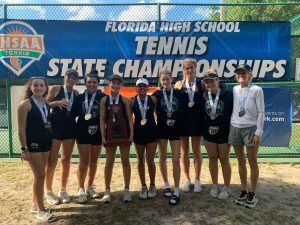 Congratulations to the Bishop Verot Catholic High School Viking Girls Tennis team in Fort Myers. They made Verot history today, earning 2nd place in the State Championship on April 29 at Red Bug Lake Park in Casselberry! The ladies entered the State Tournament at the 6th seed and took down two teams before falling in the Final to Gulliver Prep. Way to go ladies!
Pitcher throws Perfect Game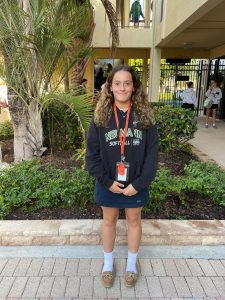 St. John Neumann Catholic High School Freshman Sophia Escobar pitched a Perfect Game on April 26, 2022, against South Fort Myers High School. She also struck out 14 batters during the game. A Perfect Game means Sofia did not allow any walks, hits or runs. Well done!
Venice school is STREAM Accredited
Epiphany Cathedral Catholic School in Venice is officially a STREAM (Science, Technology, Religion, Engineering, Arts, Math) Accredited Catholic School in the Diocese of Venice. Accreditation became official on April 26, 2022, from the Florida Catholic Conference of Bishops Accreditation Committee. The process of being certified has taken six years and the school credits its teachers for dedicating unit and lesson plans to the process.
Youngest students have fun measuring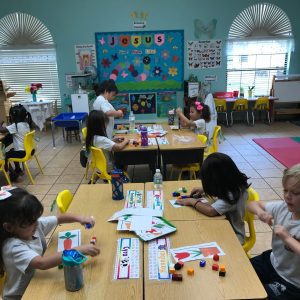 Pre-kindergarten students, the youngest at St. Catherine Parish in Sebring, had fun on May 9, 2022, learning how to measure different objects. This lesson is helping to prepare these young minds for more advanced math in Kindergarten and beyond.