Neumann delivers cheer to seniors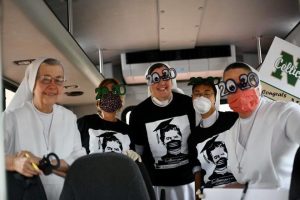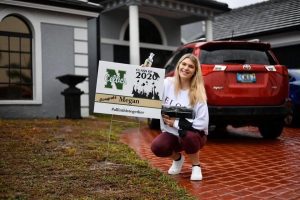 The leadership of St. John Neumann Catholic High School in Naples spent two days on "Operations: Celebrate Our Seniors" delivering cheer from the school van to the homes of graduating seniors. Each student received their cap and gown, yard sign, a t-shirt and personalized cookie. If the seniors can't come to school, the goal was to bring the school to them. Each senior was asked to sign a graduation poster as they received words of encouragement from the Salesian Sisters of St. John Bosco who run the school.
Online Bible Study LIVE beginning May 12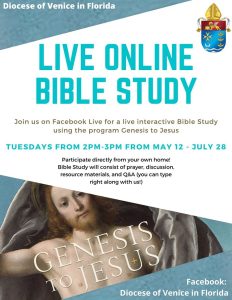 A Bible Study will be offered online through the Diocese of Venice Facebook Live on Tuesdays May 12 through July 28 using the program "Genesis to Jesus" from the St. Paul Center for Biblical Theology. Each session will begin at 2:00 p.m. Join by going to https://www.facebook.com/DioceseofVenice/ and simply watch the live-stream video on the page. You will also be able to type in your questions and comments in real-time to participate from your own home (you do not need to have a Facebook account to watch the video but you do need to have an account to comment and ask questions)!  With so much great Catholic content out there now, here is something you can participate in yourself!
Scam Alert targeting parishioners
It has once again been brought to the attention of the Diocese of Venice that parishioners have received text/email messages from people pretending to be priests and requesting donations in the form of gift cards and/or wire transfers. The messages often greet the person by name and have the priests name in the closing signature of the message; this is a well-crafted and targeted attack on the Church across the country which has hit our Diocese again. These text/email messages are 'spoofed' fakes that should not be responded to or taken seriously by anyone. The best defense against this sort of scam is to raise awareness in the community and not respond or open any worrying attachments. It is Diocesan policy that no priest or staff within the Diocese request donations in the form of gift cards, PayPal, MoneyGram, etc
There is already an established process in place on how parishioners can make donations and participate in the life of the Parish. Whenever a parishioner is worried about any request for money from the parish or a priest, they should immediately call their parish and under no circumstances should they respond to these scam requests.
Year of St. Joseph resources online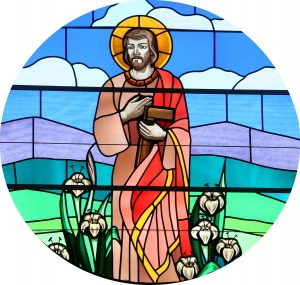 On the Solemnity of St. Joseph, March 19, Bishop Frank J. Dewane consecrated the Diocese of Venice to the care and protection of Saint Joseph in the context of the Coronavirus and announced a "Year of St. Joseph" beginning March 19, 2020 through March 19, 2021.  St. Joseph is the Patron Saint of the Universal Church, fathers, workers and the sick and dying. A number of resources, including a Novena to St. Joseph, have been made available on the Diocesan website – www.dioceseofvenice.org.
Bradenton Food Pantry
The St. Joseph Parish Food Pantry, 2704 33rd Ave. W., Bradenton, is open and distributing food from 9 a.m. to noon Monday-Friday, 5-7 p.m. Wednesdays, following all social distancing protocols. Cars will be directed through the parking lot and trunks will be loaded by volunteers in protective gloves and masks. Call 941-756-3732 if you have any questions. You do not need to be a regular client to receive food. To make a donation of money or food, please visit https://www.stjoepantry.com/.
Music lessons continue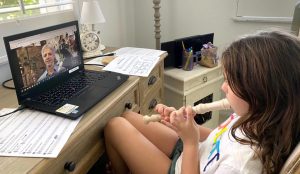 St. Francis Xavier Catholic School first grade student learns to play an instrument with the virtual assistance of Music Teacher Jeffery Jodice using 'Google Meet' in Fort Myers.