Appointments
After consultation, Bishop Frank J. Dewane announces the following:
Father Kristian Villafaña is relieved of his duties as Temporary Administrator of Holy Cross Parish, Palmetto, effective October 18, 2022.
Father Nicholas Thompson, as Parochial Vicar at St. John the Evangelist Parish, Naples, effective November 1, 2022.
Father Binu Joseph, as Parochial Vicar at Sacred Heart Parish, Bradenton, effective November 3, 2022.
Catholic Mass to Honor Veterans Moved Due to Weather
The Diocese of Venice in Florida will celebrate its 13th annual Veterans Day Catholic Mass to honor veterans on Friday, Nov. 11, 2022. The Mass, originally scheduled to be held at The Sarasota National Cemetery, has been moved due to weather constraints. The Mass will now be celebrated at the nearby St. Patrick Parish, 7900 Bee Ridge Road, Sarasota. The Mass will begin at 3:30 p.m., with opening ceremonies at 3:15 p.m. All are encouraged to arrive early. Bishop Frank J. Dewane will be the principal celebrant of the Mass.
Mooney runner finishes second in States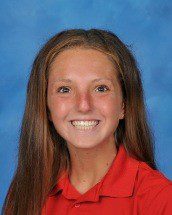 Cardinal Mooney Catholic High School junior Addison Dempsey took the silver medal in the Class 2A girls Florida High School Athletic Association Cross Country State Championship on Nov. 5, 2022, in Apalachee Regional Park in Tallahassee. Dempsey crossed the 5,000-meter (or 3.1 mile) race in 17:54, just 11 seconds behind the winner. The Mooney girls' team came in 25th overall, with Kate Ruaona placing 11th. The Sarasota boys finished in 20th, with the top runner, Christian Kline placing 37th. At the same event, the Bishop Verot Catholic High School runners from Fort Myers also participated, with sophomore Mackenzie De Lisle placing fifth. The boy's team took fifth place overall, with the top runner, Grayson Tubbs, placing 16th. Congratulations everyone!
Students learn to fold American Flag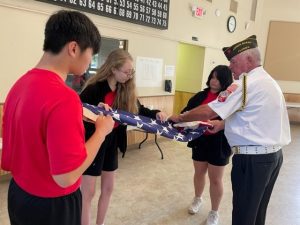 The Veterans of Foreign War Golden Gate Post 7721 visited St. Elizabeth Seton Catholic School in Naples on Nov. 4, 2022, to teach the eighth graders how to properly fold the American flag in advance of the school's Veterans Day Tribute on Nov. 11.
Key Club members help neighboring school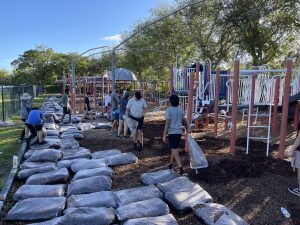 More than 40 St. John Neumann Catholic High School students and Key Club members came together Nov. 7, 2022, to help with a beautification project at St. Elizabeth Seton. Students laid mulch on the playground and painted parking lot curbs and stops. Lots of fun was had amidst the hard work.
Tiger Trot a success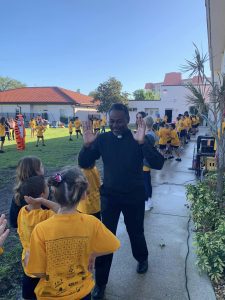 The annual Tiger Trot at Epiphany Cathedral Catholic School in Venice was a huge success. Held on Nov. 4, 2022, the event raised funds and everyone had a great time. Msgr. Patrick Dubois was in attendance to observe and blessed the Tiger Trot and cheer everyone on.
Thermal energy class was HOT!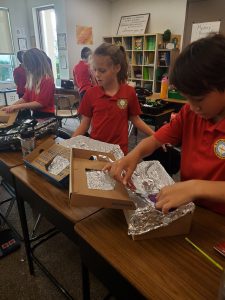 Fourth grade science students at St. Martha Catholic School in Sarasota learned all about Thermal Energy the week of Nov. 1, 2022. The students each constructed their own solar oven and placed the components for s'mores in them before bringing them outside to cook. The result: the ovens worked, and everyone had a delicious snack created in their own oven!
Parish holds food fest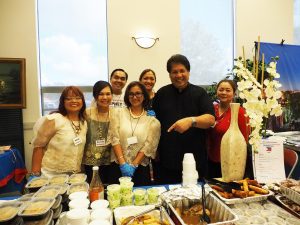 Our Lady of Grace Parish in Avon Park held its annual International Food Festival on Nov. 6, 2022. Delectable cuisine from around the world was up for selection including from countries such as Puerto Rico, the Philippines, Ireland, Mexico, Italy and many more. Parish pastor Father Ronnie Sison, who is originally from the Philippines, took time to visit each table and sampled many selections.
 Fun day in Bradenton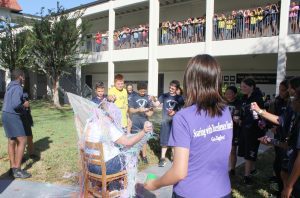 A fun time was had during "Silly String" festivities at St. Joseph Catholic School in Bradenton on Nov. 4, 2022. The fun was a follow-up celebration to the successful annual Eagle Run fundraiser held earlier in the month. The seventh-grade class, which had great success during the Eagle Run, also celebrated with a McDonald's party.