School celebrates Latin Fiesta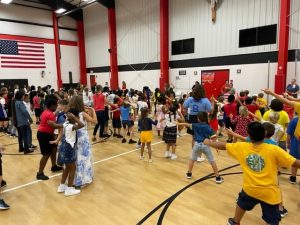 St. Elizabeth Seton Catholic School students in Naples enjoyed a Latin Fiesta Oct. 13, 2022. This was a special day to celebrate the Latin culture with food, dance, music and more. Students experienced the Latin culture through a Folklore Dance Presentation and Zumba class and was such a fun and educational event for the school.
Veterans Day Mass
On Veterans Day, Friday, November 11, the Diocese of Venice will hold a Memorial Mass in honor of the men and women who have served our country and continue to serve and protect us today. This is the 13th year the Diocese has held a Mass on Veterans Day. Bishop Frank J. Dewane will celebrate the Mass at 3 p.m. at the Sarasota National Cemetery, 9810 State Road 72/Clark Road, approximately five miles east of I-75. The priests, deacons and Knights of Columbus in the Diocese will join Bishop Dewane for this important event. All are invited to attend, and active military personnel are asked to wear their uniform. Attendees are also encouraged to wear sunscreen and bring a hat. There is ample seating and parking at the cemetery. Please contact Gail Ardy at ardy@dioceseofvenice.org or 941-486-4714 for further information.
Formation program in Spanish begins

The "Gifts of the Holy Spirit" is the theme for the latest in a series of courses in the Diocese Faith Formation Program in Spanish. The series of seven classes takes place at different Parishes from early October 2022 through early March 2023. Each region of the Diocese is divided into zones to allow greater access to the classes which are held on Friday nights (and switch to Thursday nights during Lent). Those who register and attend a minimum of six classes will receive a Diocesan Certification. This is the fifth such course that has been offered within the Diocese of the Spanish-speaking community in the past several years. To learn more about the Hispanic Apostolate of the Diocese, please visit https://dioceseofvenice.org/offices/offices-departments/hispanic-apostolate/.
Palmetto Knights earn elite status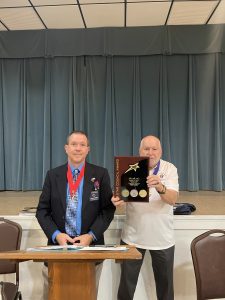 Congratulations to the Knights of Columbus Council 7414, of Holy Cross Parish in Palmetto, which recently attained the Double Star Council status for the 2021-2022 fraternal year. Earning the "Star Council Award" is an annual recognition from the Supreme office of the Knights of Columbus. The Double Star designation means these men greatly exceeded the requirements for the annual recognition. The requirements cover a variety of efforts including membership increases, community service, Parish service and faith-based activities.
Science students build islands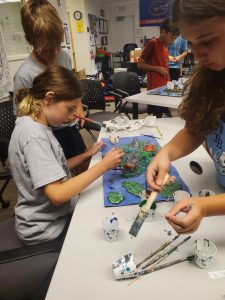 Sixth grade science students at St. Martha Catholic School in Sarasota met the "Landform Island Challenge" head-on and did an amazing job on Oct. 14, 2022. For the challenge, the students had to build an island of landforms out of salt dough to demonstrate knowledge of landforms and how they are created, including: a mountain, valley, volcano, plateau, coastline, barrier islands, cape, lake, river with a delta, bay, and sound. The results were impressive!
Student recognized for artistic talent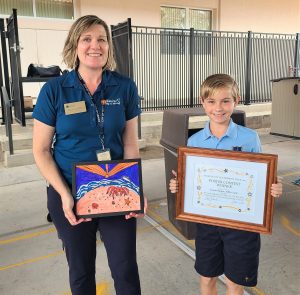 Congratulations to Epiphany Cathedral Catholic School student Connor Bogue, fifth grade, who won the City of Venice's annual Florida City Government Week poster contest at his school. Students drew to the theme, "My City, I'm Part of It, I'm Proud of It." Connor won a pizza party for his class on Oct. 18, 2022, and received a framed certificate from City Public Information Officer Lorraine Anderson. His colorful artwork will also be installed at City Hall. Well done!