Bishop celebrates Mass for students in Sebring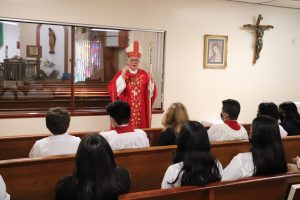 Bishop Frank J. Dewane celebrated Mass for the students at St. Catherine Catholic School in Sebring on Oct. 18, 2021. The Mass is the latest in a series of Masses celebrated by the Bishop for students at each of the 15 Diocesan Catholic schools. During the Mass, which took place on the Feast of St. Luke the Evangelist, Bishop Dewane encouraged the students to focus on developing their prayer life each day.
VDCCW Retreat held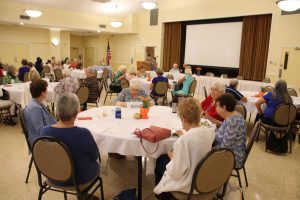 The Venice Diocesan Council of Catholic Women hosted a retreat on Oct. 16, 2021 at Epiphany Cathedral in Venice. The bilingual retreat included talks from Father Janusz Jancarz, Spiritual Moderator for the VDCCW and Pastor of Our Lady of Lourdes Parish in Venice; Father Claudio Stewart, Diocesan Director of Hispanic Ministries, and Father Thomas Heck, a retired priest of the Diocese. The women also participated in Mass, adoration and praying of the rosary.
Students celebrate Chaplain's birthday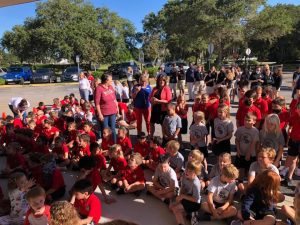 The students at St. Martha Catholic School and St. Mary Catholic Academy in Sarasota serenaded their Chaplain, Pallottine Father Fausto Stampiglia, to a rendition of "Happy Birthday" on October 15, 2021. The more than 500 students gathered outside, near the main entrance of the two schools, as Father Stampiglia was delighted by the outpouring of love from the students. As a special surprise, in honor of Father, a wall-mounted sculpture of St. Mary and St. Martha with Jesus was unveiled and is now on permanent display outside of the front lobby of the schools. Happy Birthday Father Fausto!
Heading Up 'STREAM'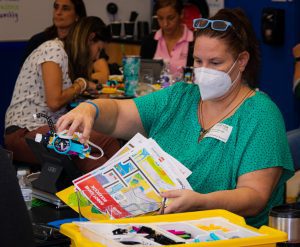 The Diocese of Venice Department of Education hosted its first Middle School Robotics Coaches and Teachers training seminar Oct. 15, 2021 at its Innovation & Simulation Teaching & Learning Lab at Epiphany Cathedral Catholic School in Venice. Led by Jennifer Falestiny, curriculum coordinator at the Diocese of Venice in Florida, the seminar challenged teachers to build Lego robots then program them to complete various logistical and mechanical challenges on a 3D map. The seminar is part of a comprehensive training program to help teachers prepare their students for the FIRST Lego Lead Challenge in 2022. This and other competitions encompass the Diocese of Venice's Science, Technology, Religion, Engineering, Arts, and Mathematics (STREAM) strategic initiatives.
New mural completed in Naples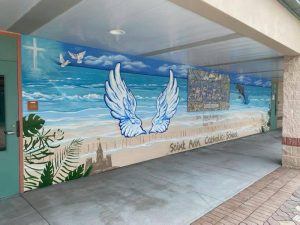 What an amazing experience for St. Ann Catholic School in Naples to enjoy and participate in the creation of a beautiful mural. Artist Marcus Zotter created the work which spans the wall between two classrooms in the main courtyard. Included in the image is a cross, two doves, angel wings, a dolphin (the school mascot) and a beach. While the mural was being created, art students at St. Ann's assisted in creating different aspects of the work.
Parent Book Club in Sarasota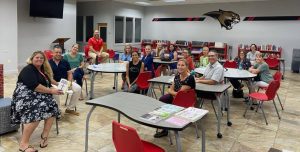 Cardinal Mooney Catholic High School Theology Teacher Timothy Shipe hosted a Cougar Parent Book Club on Oct. 13, 2021 in Sarasota. A large number of parents joined in to study Trent Horn's, "Why We Are Catholic?" book. The discussions about the Faith were lively and interesting, taking place in the school's multi-media lab. All are welcome to join. Contact tshipe@cmhs-sarasota.org.
Students gain engineering skills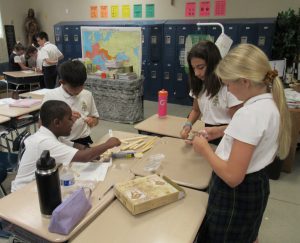 Fifth-grade students at Donahue Academy of Ave Maria Catholic School built bridges on Oct. 14, 2021, while sixth-grade students used engineering skills to build a ballista, a trebuchet and two kinds of catapults as part of the study of medieval history.
Sophomore retreat in Naples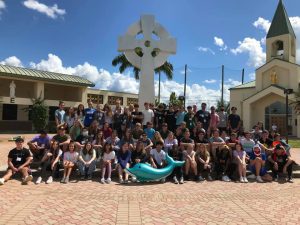 Sophomores at St. John Neumann Catholic High School in Naples covered the campus Oct. 14, 2021 and enjoyed every aspect of their class retreat. It was a day that included skits and projects, discussions and reflections, prayer and adoration, and, of course, fun and games. In Neumann style, the class of 2024 celebrated Faith, family, sports, school, independence and friendship. "When you pass through waters, I will be with you; through rivers, you shall not be swept away." – Isaiah 43:2a
Students go on "Safari"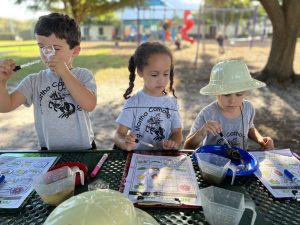 Kindergartners at St. Martha Catholic School in Sarasota went on an amazing "Nature Safari" Oct. 14, 2021. They trekked to the front field and searched for soil, sun, butterflies, spider webs, grass, flowers and more. They then went to the pond to collect water samples, which they studied using eye-droppers, hand lenses, and mini forceps. It was a great adventure!