Red Mass in Sarasota Nov. 10
The Catholic Lawyers Guild of the Diocese of Venice invites you to the 14th Annual Red Mass at 5:30 p.m., Thursday, Nov. 10, 2022, St. Martha Parish, 200 N. Orange St., Sarasota. Bishop Frank J. Dewane will be principal celebrant. The Red Mass celebrates all who pursue justice in their daily lives as is the time-honored tradition dating back to the 13th century. Today, the tradition still stands as an invocation of God's blessing upon the members of the bench, bar, legislature, law enforcement and governmental agencies, all protectors of and administrators of the law.  We welcome all who participate in the administration of justice. We hope that you will be able to come to pray for the Holy Spirit's guidance, and to strongly encourage and support the involvement of the legal community in spreading the Word of God. Kindly RSVP to Deacon Paul Consbruck at paul@adoptfla.com, or 941-966-6706.
 Students take action to prevent bullying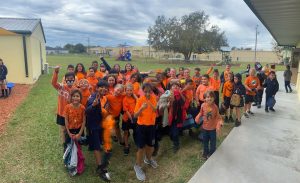 Diocese of Venice Catholic Schools participated in the annual Unity Day on Oct. 21, 2022, to take action in their world and stand up against bullying. For example, at St. Catherine Catholic School in Sebring, students wore orange to school and took a pledge of acceptance, kindness, and inclusion.
Students wear pink to fight cancer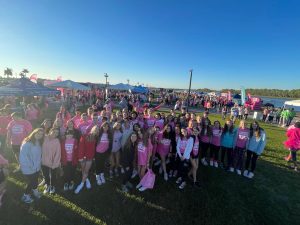 Pink, pink, and more pink. Once again Cardinal Mooney Catholic High School in Sarasota is making an impact and Making Strides Against Breast Cancer! More than 130 Cougars participated in the annual 5k walk on Oct. 22, 2022, at Nathan Benderson Park making Mooney the largest group to walk in the event. The Cougar team raised over $4,000 for breast cancer research.
Students get creative honoring saint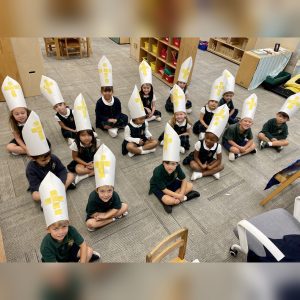 In anticipation of the Feast Day of St. John Paul II (Oct. 22, 2022), pre-kindergarten students at Ave Maria Catholic School and Donahue Academy in Ave Maria, made triptychs (a work of art divided into three panels) and miters (the headdress worn by the popes). What happy little saints-in-the-making!
Combining art and history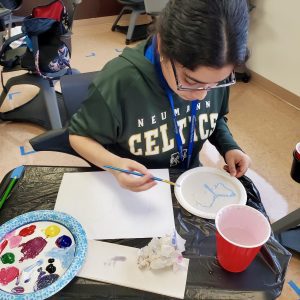 Students Advanced Placement Art History at St. John Neumann Catholic High School in Naples took time out on Oct. 21, 2022, to created their own frescoes with plaster and tempera. Now, when they learn about Giotto's Arena Chapel, they have a new appreciation for the amazing artwork of these masters.
STREAM project develops many skills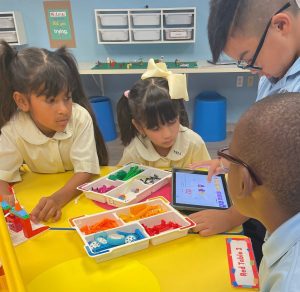 During a STREAM (Science, Technology, Religion, Engineering, Arts, and Math) Class at St. Joseph Catholic School in Bradenton, on Oct. 24, 2022, second grade students have been learning to develop creative thinking skills by building an entrance to an amusement park ride. Through using innovative word block coding to program their project, when a photosensor sees a ticket of a specific color a light will turn green for "GO"!