New Parish DREs attend training session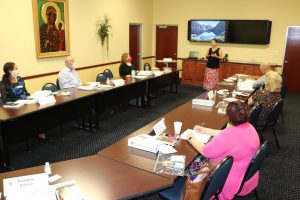 Anne Chrzan, Diocese of Venice Director of Religious Education hosted a training session on Aug. 21, 2020 for new Parish directors at the Catholic Center in Venice. The seven new DRE's have been with the Diocese for varying lengths of time, but the restrictions mandated by the COVID-19 Pandemic made meeting in person challenging. Previous sessions occurred through virtual meetings.  The meetings were intended to inform each of the new employees what is expected of them as they serve as part of their Parish, Diocese and Universal Church.
Neumann senior garners Key Club honor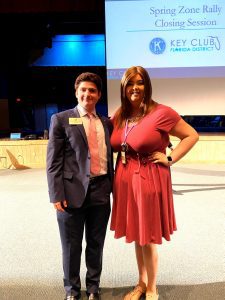 Congratulations to Hector Fernandez, a senior at St. John Neumann Catholic High School, for being recognized by the Florida District of Key Club International with the "Leader of Leaders" award! Hector will serve as the Division 22 Lieutenant Governor for the 2020-21 school year and oversee the 11 Key Clubs in Collier County. He was chosen amongst the 72 other Lieutenant Governors from around the state to receive this award during their first Board Meeting with the Florida District.
VDCCW fundraiser supports seminarians
The Venice Diocesan Council of Catholic Women invites you to join them in celebrating Priesthood Sunday, Sept. 27, 2020, in a special and lasting way. Do this by sending the priests of your Parish a Vocation Fund "IN HONOR OF" card as proceeds will go toward the VDCCW Seminarian Fund. Please remember that this is a gift that keeps on giving! The Diocese of Venice is educating 16 men in various seminaries. A donation of any amount will be a great help. The donation amount will not be revealed to the recipient. To take part, please send $1.00, plus your donation, payable to "VDCCW Vocation Fund," to: Cornelia Zanetti, 5808 Gulf Drive, #204, Holmes Beach, FL 34217. Questions? Please email corniez@aol.com.
Virtual Laps For Life
The Sarasota Laps For Life is going Virtual for 2020! Join the Knights of Columbus of the Sarasota and Bradenton area for this special cause by completing a timed distance of 5K (3.1 miles) in your neighborhood, park, or other favorite outdoor location, anytime between Sept. 12 and Oct. 3, 2020. Proceeds from Laps For Life benefit My Choice Pregnancy Center, a women's health support center. Sign up and submit your results at ww.srqLapsForLife.net then tag us in your pictures at #SarasotaLapsForLife on Facebook and Instagram. Life is NOT cancelled: Be Safe, Go Virtual!
Night in Havana Gala Auction
The St. Elizabeth Seton Catholic School "Night in Havana" Gala scheduled for Sept. 26, 2020 is now a Streamlined Virtual Event! You can place bids on auction items remotely to win beautiful gift baskets, gift certificates, and other fabulous items in a week-long bidding fun Sept. 21-26. Please join us for this exciting event as together we overcome the challenges of the pandemic while supporting our great school. For more information, please contact Dr. Dianne Fabii at 239-455-2262 or fabii@seseton.org. Mobile bidding registration can be found at www.qtego.net/qlink/celebrateseton2020.
Online Directed Retreats at OLPH
During the current health crisis, Our Lady of Perpetual Help Retreat Center in Venice offers online 3-day, 5-day, and 8-day retreats based on the Spiritual Exercises of St. Ignatius. In these online retreats, Father Mark Yavarone, OMV, or Father Lino Estadilla, OMV, trained spiritual directors, will meet with you for an hour each day via a link provided to help you to pray and to recognize how God is speaking to you. A Bible and journal should be available for your use. Participants will be emailed any additional materials needed as the retreat unfolds. The cost is: 3-day online retreat, $132.23; 5-day online retreat, $203.98; and 8-day online retreat, $306.48. All information will be confidential, and password protected. If you would like to participate in an online retreat, please email Denise Riley at riley@olph-retreat.org and a code will be provided for your online registration as well as an application. For planning purposes, please allow 7 days from your completed application until the beginning of your retreat.
St. Jude Food Pantry
The St. Jude Parish Food Pantry, 3930 17th St., Sarasota, is open and distributing food Wednesdays from 5:00 p.m. to 6:30 p.m. and Saturdays from 8:30 a.m. to 9:30 a.m., following all social distancing protocols. Please bring an ID and do not exit your vehicle. Volunteers will load cars. Please call 941-955-3934 if you have any questions or visit: https://www.stjudesarasota.com/info/st-jude-food-pantry-schedule.
Wauchula Food Pantry
St. Michael Parish in Wauchula is home to a food pantry located at 408 Heard Bridge Road, Wauchula. The pantry has been at the forefront of the COVID-19 Pandemic response. To accommodate those who work, the food pantry is open Saturdays from 7:00 a.m. to 8:45 a.m.  If you need food at a different time or would like to support the efforts to assist the community, please call the Parish at 863-773-4089.