Ordination to the Permanent Diaconate Aug. 15
Bishop Frank J. Dewane will ordain to the Permanent Diaconate seven men at 11 a.m., Saturday, Aug. 15, 2020 at Epiphany Cathedral, 350 Tampa Ave. W., Venice. The candidates are: Jeffrey Ball of Ave Maria Parish, Ave Maria; Enrique (Rick) Castro of St. Cecilia Parish, Fort Myers; Ramiro Hernandez of St. Michael Parish, Wauchula; Jack W. Milholland Jr. of Our Lady of the Angels Parish, Lakewood Ranch; Roberto Pagán of Jesus the Worker Parish, Fort Myers; Vern W. Smith of St. Martha Parish, Sarasota; and Dr. William Soscia of St. Joseph Parish, Bradenton. A reception in the Parish Hall will follow. All are invited and encouraged to attend.
CCW supports Catholic Charities
Representatives of the Venice Diocesan Council of Catholic Women recently presented a check to Catholic Charities, Diocese of Venice Inc. for their homeless prevention program. The presentation took place on June 23, 2020 at the Catholic Center in Venice. VDCCW President Brenda Dolan and Board Member Ellen Bachman presented the check for $7,000 to Philomena Pereira, CEO of Catholic Charities. Bishop Frank J. Dewane was also present as a show of support for both the VDCCW and Catholic Charities. The money is part of an annual effort of the VDCCW and will go toward the numerous programs that provide housing and also prevent people from becoming homeless.
Support After Abortion Virtual Conference
Join the Support After Abortion Healing Network Virtual Conference 2020: Building and Strengthening Abortion Healing Worldwide – Thursday, July 30 to Saturday, August 1.  See and hear online over 40 presenters: clergy, authors, curriculum leaders and those who have been impacted by abortion as they share their wisdom, insights and personal stories. Don't be surprised that Support After Abortion resides in the Diocese of Venice and some of the presenters live here as well. There is no charge to watch any of the presentations during the three-day virtual conference by visiting www.supportafterabortionvirtualconference.com/home. See the website for a premium upgrade for access to each of the presentations for 90 days. (NOTE: Any priest interested in a free 90-day premium pass – a $49.99 value – can request one by e-mailing Berdeaux@dioceseofvenice.org or calling 941-374-1068.)
Online Master's in Bioethics Offered
St. Thomas University in Miami Gardens is offering a new Master's in Bioethics to be earned in four semesters. The comprehensive program is designed for graduates to be equipped to address all relevant bioethical issues of our time; to serve as consultors; to give workshops; develop Parish programs; and to train others to do the same. All courses are taught according to the teachings of the Catholic Church. The program is four consecutive semesters (fall, spring, short summer, fall and students who start in the fall of 2020 will be graduating in December of 2021. The program consists of two courses per semester for a total of 30 credits and are fully available online. For more information, contact Father Alfred Cioffi, Director of the Institute for Bioethics, St. Thomas University, at 786-489-9369 or acioffi@stu.edu.
Year of Saint Joseph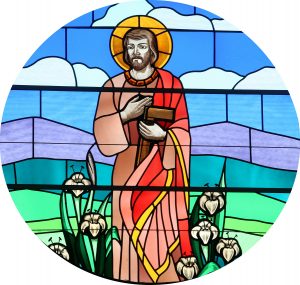 On the Solemnity of St. Joseph, March 19, Bishop Frank J. Dewane, in the context of the Coronavirus, consecrated the Diocese of Venice to the care and protection of St. Joseph. The Bishop announced a "Year of St. Joseph" beginning March 19, 2020 through March 19, 2021. St. Joseph, often referred to as the Protector, can be our protector during this time of the pandemic. To pray a Novena to St. Joseph please visit the Year of St. Joseph webpage at www.dioceseofvenice.org.
Wauchula Food Pantry
St. Michael Parish in Wauchula is home to a food pantry which has been at the forefront of the COVID-19 Pandemic response. To accommodate those who work, the food pantry is open Saturdays from 7:00 a.m. to 8:45 a.m., at 408 Heard Bridge Road, Wauchula. If you need food at a different time or would like to support the efforts to assist the community, please call the Parish at 863-773-4089.
Free Rosary Repair Service
Send your broken rosaries in a padded envelope to Betty and Dick Holden, 7930 Estero Blvd. #502, Fort Myers, FL 33931. Rosaries will be repaired and returned within the week of receipt. Donations of old rosaries are also accepted which will be repaired and sent to missions. Include a note indicating repair or donation. For more details, please call 239-463-3993 or email holdenbnd@gmail.com.
Dispensation
While the celebration of public Mass resumed May 18, 2020, Bishop Frank J. Dewane announced that the dispensation from the obligation to attend Sunday Mass remains in effect through Sept. 1, 2020 for those who are at greater risk or anxious about returning at this time. The Faithful ought not to worry about remaining home if they are concerned for their wellbeing or that of other parishioners. Of course, those who are sick or have symptoms associated with COVID-19 are to stay home. Please check the Diocese of Venice website for any updates.
Livestreaming
The Diocese of Venice will continue livestreaming the Mass through the Diocese website (www.dioceseofvenice.org) and Facebook pages from the Catholic Center in Venice 9:15 a.m. daily as the dispensation to attend Mass remains.
Sunday Televised Mass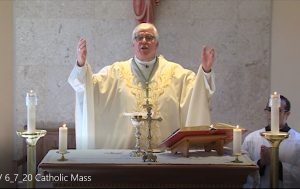 The Televised Mass for the Homebound is available throughout the Diocese each Sunday. In northern parts of the Diocese (Manatee, Highlands, Hardee, Sarasota, DeSoto and Charlotte counties) the Mass airs on television at 9:30 a.m. on the CW Network. In the southern portions of the Diocese (Collier, Lee, Glades, Hendry, Charlotte counties) the Mass airs at 10:30 a.m., on WFTX-TV (FOX-4). This same Mass can be found on the Diocese of Venice website at any time during the week, www.dioceseofvenice.org/tvmass. Please check local listings for channel information.
Parish donations
During this challenging time in the life and mission of the Diocese of Venice, our Parishes face increased risk of financial shortfalls due to the COVID-19 Pandemic and its effects on everyday life. Parishes depend on weekly financial gifts to continue their ministries, especially in this critical time of crisis. The Diocese of Venice is providing an online platform and encourages the Faithful to support their Parish. Please visit https://dioceseofvenice.org/ways-to-give/parish-donations-online/ to donate to your Parish. The Faithful may also contribute through usual channels (e.g., envelopes, and through the Parish online giving option). Together we will navigate through this crisis, provide assistance to those in need, and secure the road ahead for the Parishes within the Diocese of Venice.
Online Resources
A special coronavirus webpage is located on the Diocese of Venice website at www.dioceseofvenice.org. Resources include links to the Mass, the prayer for an Act of the Spiritual Communion, videos of the Stations of the Cross, Divine Mercy Chaplet and Pray the Rosary. The U.S. Conference of Catholic Bishops website, www.usccb.org, also posts the daily Mass readings.
Act of Spiritual Communion
It has long been a Catholic understanding that when circumstances prevent one from receiving Holy Communion, it is possible to make an Act of Spiritual Communion which is a source of grace. Spiritual Communion means uniting one's self in prayer with Christ's sacrifice and worshiping Him in His Body and Blood.
The most common reason for making an Act of Spiritual Communion is when a person cannot attend Mass, as is the case during the ongoing coronavirus pandemic. Acts of Spiritual Communion increase our desire to receive sacramental Communion and help us avoid the sins that would make us unable to receive Holy Communion worthily.
For all who will not be able to receive the Holy Eucharist in person, consider this special prayer, an Act of Spiritual Communion:
My Jesus,
I believe that You
are present in the Most Holy Sacrament.
I love You above all things,
and I desire to receive You into my soul.
Since I cannot at this moment receive You sacramentally,
come at least spiritually into my heart.
I embrace You as if You were already there
and unite myself wholly to You.
Never permit me to be separated from You.
Amen.