The Donahue Catholic Academy of Ave Maria Parish celebrated the Baccalaureate Mass and 15th Commencement Exercises of its 14 graduating seniors on June 1, 2022.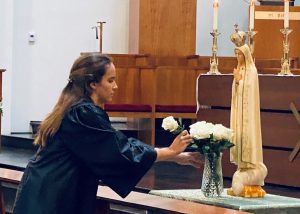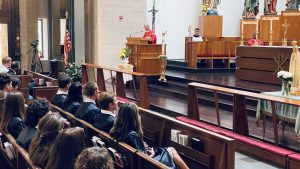 Donahue Principal Dr. Daniel Guernsey opened the procession of graduates before the Mass, celebrated at Ave Maria Parish, by playing the bagpipes, a tradition he does each year.
The graduates then processed in, each carrying a white rose to be placed in a vase before a statue of the Blessed Virgin Mary. Father John Belmonte, SJ, Diocese of Venice Superintendent of Catholic Education, was the main celebrant.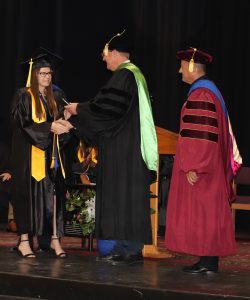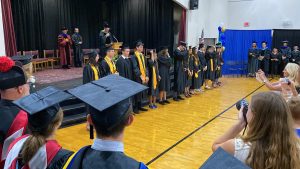 Following Mass, the festivities moved to the nearby school, with the graduation taking place in the gymnasium. In addition to family, students from the upper grades were present for the presentation of diplomas. Catherine Graham was the class Valedictorian and Winston Fairchild was the Salutatorian, both of whom were National Merit Scholarship Finalists.
Check back in the June 17, 2022, e-edition of The Florida Catholic for a wrap-up of graduation season in the Diocese of Venice.