When it comes to planning the 50th Jubilee of the Parish, there is an option to host one large celebration or to be more inclusive and include commemorations which reflect the broad cultural diversity of the faith community. St. Peter the Apostle Parish, erected in Naples on June 11, 1974, has opted to host many Jubilee celebrations in the coming months, culminating in a big event in June 2024.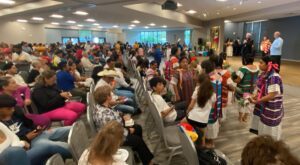 Therefore, Oct. 22, 2023, was the day of a Hispanic Festival at St. Peter's, with more than 1,000 celebrating this diverse community with food, music, dance and ethnic clothing.
Bishop Frank J. Dewane was present and offered a prayer for the Festival participants, as well as for the continued success of the ongoing Parish Jubilee celebrations.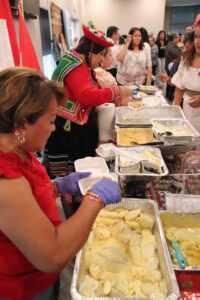 Father Gerard Critch, St. Peter the Apostle Pastor, said he was pleased by the response to the Hispanic Festival and said he was delighted to have such a vibrant Parish community that includes people of many different backgrounds.
Father Wilian Montalvo Tello, Parochial Vicar at St. Peter who supports the spiritual needs of the Hispanic community, was overjoyed by the celebration, and held a wide grin as he wore the traditional clothing of his native Peru.
Also present was Father Alejandro Giraldo-Roldan, Parochial Vicar serving the Hispanic faithful at nearby St. Elizabeth Seton and St. Agnes Parishes. Father is a native of Columbia who was ordained to the priesthood in July.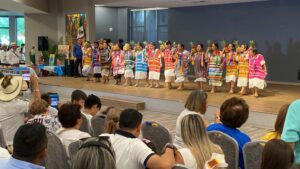 The Festival began with the Holy Sacrifice of the Mass. This was followed by a procession and music led by performers dressed in Mayan and Aztec garb.
Throughout the afternoon and into the evening, participants had the opportunity to sample cuisine from more than a dozen Latin American countries. On the stage, there was a constant rotation of singers and dancers from the various countries.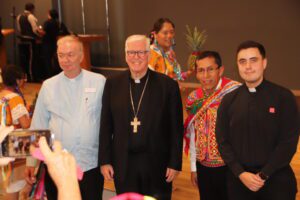 As the music played, many sang along with the more traditional ballads. Throughout, nearly everyone present had small flags on their lapels, while most wore hats and traditional clothing or the colors of their homeland. Another option was to wear a shirt of the national sports team.
No matter where everyone was from, be it Latin America, the United States or elsewhere, a great time was had by all. As Father Critch explained, everyone better be prepared to party over and over again as the Jubilee celebration continues!