Each year the Diocese of Venice holds a Memorial Mass on Veterans Day in honor of the men and women who have served our country and continue to serve and protect us today. The restrictions regarding public gatherings at the Sarasota National Cemetery have precluded holding the Mass at that beautiful site.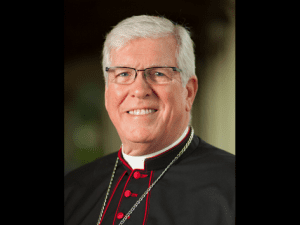 This year, the virtual Memorial Mass to be celebrated by Bishop Frank J. Dewane, will be held at 3p.m., Wednesday, Nov. 11, 2020. The Mass will be livestreamed so all may participate and can be found at www.facebook.com/dioceseofvenice.org/videos. You do not need to have an account to view the Mass.
Bishop Frank J. Dewane said it is a special privilege that the Diocese of Venice celebrates this Mass for the intention of our veterans each year. "While we will not be able to gather this year in person at Sarasota National Cemetery, it is important to continue the tradition of honoring the sacrifices of the soldiers who fought for the many freedoms that we enjoy today."
Organized by the Diocese of Venice, with the support of the Knights of Columbus, the annual Mass started in 2010, just two years after the National Cemetery was dedicated. Since that time, the cemetery and Mass have grown. In 2019, some 1,500 attended the Mass. More than 24,000 veterans and their spouses are interred in the National Cemetery since opening.
Please contact Gail Ardy at ardy@dioceseofvenice.org or 941-484-9543 for further information.