Food pantry open in Wauchula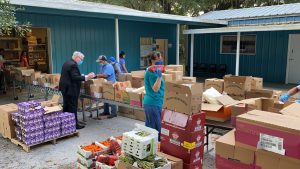 St. Michael Parish in Wauchula is the home to a food pantry which has been at the forefront of the COVID-19 Pandemic response. To accommodate those who work, the food pantry is open each Saturday, 7–8:45 a.m., at the Parish 408 Heard Bridge Road, Wauchula. If you need food at a different time or would like to support the efforts to assist the community, please call the Parish at 863-773-4089.
Parish continues to support Our Mother's House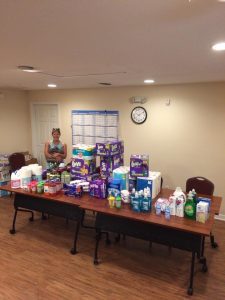 The Peace and Justice Outreach of Our Lady of the Angels Parish in Lakewood Ranch adopted Catholic Charities Our Mother's House as their charity for the month of May. During that time, the group made three delivers of donations for the babies and young mothers, with each larger than the previous. The donations were much appreciated by the facility which assists mothers and their young children who might otherwise be homeless.
Retired priest celebrates 70th anniversary of ordination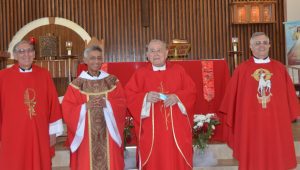 A small celebration marked the 70th anniversary of the Ordination to the Priesthood Father Ireneo Tovar on June 3, 2020, at St. James Parish in Lake Placid.  Father Tovar has been "retired" in Lake Placid for the past 21 years. He has one living sister, a religious sister who is more than 100 years old. He himself is 95 years old and enjoys celebrating Mass at St. James and working in his garden. The Mass was concelebrated by Father Jose Gonzalez, Pastor of St. Catherine Parish in Sebring and Dean of the Eastern Deanery, Father Vincente Clemente, Pastor of St. James, and Father Felix Gonzalez, Parochial Vicar of St. James. Father Tovar was born in Spain, and left Spain against his mother's wishes because he wanted to become a missionary. He was sent to Africa during World War II to a country then-called Rhodesia, now called Zimbabwe, which he loved. He was the first Anglo many had seen. He spent 18 years as a priest there, establishing churches where there had been none. Later he was reassigned to Camden, N.J., where he worked for over 20 years with the Spanish-speaking migrant population, before retiring to Florida.
Online Prayed Retreats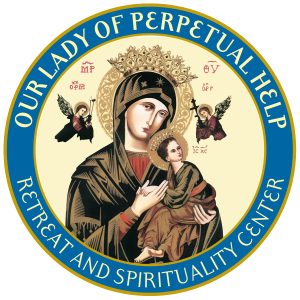 During the current health crisis, Our Lady of Perpetual Help Retreat Center in Venice is offering online 3-day, 5-day, and 8-day retreats based on the Spiritual Exercises of St. Ignatius. In these online retreats, Father Mark Yavarone, OMV, or Father Lino Estradilla, OMV, trained spiritual directors, will meet with you for an hour each day via a link provided to you, to help you to pray and to recognize how God is speaking to you. A Bible and journal should be available for your use. Participants will be emailed any additional materials needed as the retreat unfolds. The cost is as follows: 3-day online retreat, $132.23; 5-day online retreat, $203.98; and 8-day online retreat, $306.48. All information will be confidential, and password protected. If you would like to participate in an online retreat, please email Denise Riley at riley@olph-retreat.org and a code will be provided for your online registration as well as an application. For planning purposes, please allow 7 days from your completed application until the beginning of your retreat.
Scam Alert
It has once again been brought to the attention of the Diocese of Venice that parishioners have received text/email messages from people pretending to be priests or Bishop Frank J. Dewane and requesting donations in the form of gift cards and/or wire transfers. The messages often greet the person by name and have the priests name in the closing signature of the message; this is a well-crafted and targeted attack on the Church across the country which has hit our Diocese again. These text/email messages are 'spoofed' fakes that should not be responded to or taken seriously by anyone. The best defense against this sort of scam is to raise awareness in the community and not respond or open any worrying attachments. It is Diocesan policy that no priest or staff within the Diocese request donations in the form of gift cards, PayPal, MoneyGram, etc.
There is already an established process in place on how parishioners can make donations and participate in the life of the Parish. Whenever a parishioner is worried about any request for money from the parish or a priest, they should immediately call their parish and under no circumstances should they respond to these scam requests.
Bradenton Food Pantry
The St. Joseph Parish Food Pantry, 2704 33rd Ave. W., Bradenton, is open and distributing food from 9 a.m. to noon Monday-Friday, 5-7 p.m. Wednesdays, following all social distancing protocols. Cars will be directed through the parking lot and trunks will be loaded by volunteers in protective gloves and masks. Call 941-756-3732 if you have any questions. You do not need to be a regular client to receive food. To make a donation of money or food, please visit https://www.stjoepantry.com/.