Each woman is uniquely beautiful and made according to God's "image and likeness," that is God's design. With this in mind, the Diocese of Venice Office of Family Life hosted a series of workshops in late October to help instill a deeper appreciation for authentic femininity and the way God designed the female body as taught in the Theology of the Body from St. John Paul II.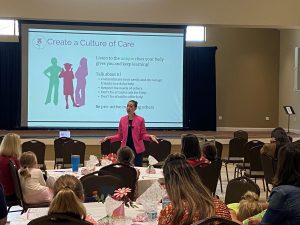 Christina Valenzuela, a national speaker who provides lifelong learning and support for Body Literacy and Natural Family Planning, addressed three very different audiences using Sacred Scripture and the rich theology of the Catholic Church to help women develop a renewed appreciation for their unique role in God's plan.
Valenzuela first spoke Oct. 21, 2021, to more than 150 young women at Ave Maria University in Ave Maria, in a talk titled, "Language of the Body," which was directed toward single women.
During the evening, she spoke about cycle charting and opened a window into Original Solitude and an opportunity to better understand what St. John Paul II calls the "mystery of woman? "That was done in the context of the liturgy, devotions, and rich theology of the Catholic Church.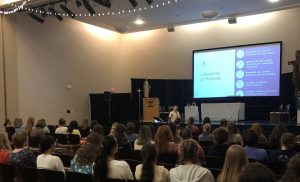 Kateri Millword, President of Ave for Life, Ave Maria University's Pro-Life Club, described the evening as a very enriching experience. This included hearing Valenzuela "talk about true femininity through the lens of fertility and cycles. She focused on their spiritual aspects, highlighting the dignity and beauty instilled in each woman by God. In the light of the "Theology of the Body" from St. Pope John Paul II. She explained how each woman can truly find herself through learning about her body in respect to what makes up her 'feminine genius.'"
Then on Oct. 23 at St. John XXIII Parish in Fort Myers, she took time to train representatives from several Parishes to develop Natural Family Planning (NFP) "Ambassadors." The idea was to build confidence by talking about NFP with others while gaining tools for expanding NFP support at the local level. Valenzuela also offered a perspective on discerning the unique role each Parish plays in supporting the family. And the importance of becoming well-versed in various types of NFP and resources.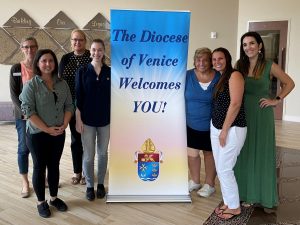 Workshop participant Lori Crawford, of Our Lady of Light Parish in Fort Myers, explained how Valenzuela guided the group to reflect on the "next steps for sharing the good and hard news about Natural Family Planning. I felt the call while we were there to minister to young girls as they grow into young women and navigate the difficult teen and young adult years. I appreciated the clarity that this workshop brought as well as the camaraderie – a network of people that feel love for this relevant and difficult, but true teaching of the Church."
The third workshop by Valenzuela took place Oct. 24, also at St. John XXIII Parish and was for mothers with daughters (ages 9-12) and designed to teach the science behind a women's cycle, and how to create a "Culture of Care" for one another as a woman's body grows and changes. More than 50 attended the "Cycle Prep Workshop" which receive high praise from the mothers who attended.
Elizabeth Andrews, of St. John XXIII Parish said "the Cycle Prep class offered by our Diocese was exactly what mothers of young daughters needed! There was so much information that moms weren't aware of prior to this session, given in a fun and relatable way, plus we were given tools to assist our daughters as they mature.
Andrews said she would highly recommend any of the Pearl and Thistle's programs Valenzuela created, and she was grateful to Bishop Frank J. Dewane and the Office of Family Life for bringing the workshop to the Parish.
Lastly, Valenzuela recorded a presentation on "Pastoral Accompaniment and NFP", which Carrie Harkey, Diocesan Office of Family Life Director, said would be shared with Parishes to provide an overview of various NFP methods, resources and accompaniment techniques to help couples through difficult fertility situations.
In addition, The Family Life Office offers pastoral planning packets "NFP in Our Parish: A Guide to Building Family Support in your Pastoral Plan" with the goal of building support in the family and where that falls in the parish plan
Harkey noted that the success of the presentations by Valenzuela does not end the efforts of the Diocese to help women develop a renewed appreciation for their unique role in God's plan while also continuing to support families who strive to authentically live Church teaching.