School Pro-Life club prays in front of abortion facility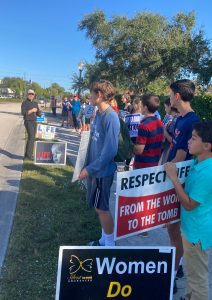 On the Solemnity of Our Lady of the Immaculate Conception, Dec. 8, 2021, the Pro-Life Club of the Donahue Catholic Academy of Ave Maria Parish, prayed in front of the Planned Parenthood abortion facility in Fort Myers. The students visit the site regularly and the Solemnity was a ideal time to come forward to be seen standing up for life as the voice of the voiceless – the unborn.
Naples high school hosts retreat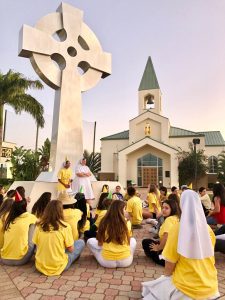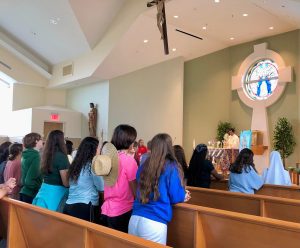 St. John Neumann Catholic High School hosted a DEC – Day Everyone Connects Retreat in Naples the weekend of Dec. 4-5, 2021. They welcomed Cristo Rey Catholic High School of Tampa and Immaculata LaSalle Catholic High School from Miami. Each school is led by Salesian Sister of St. John Bosco. The theme of this retreat was Renewal and New Life, and what better way to celebrate that than with birthday cake! Students took part in Mass, prayed together, and participated in a variety of spiritual exercises as well as team building activities while having lots of fun. It was also the first chance that many students were able to try the newly built and installed low ropes course that Neumann student Hunter Lund built on campus as his Eagle Scout project!
Mooney students spread Christmas spirit with hundreds of toys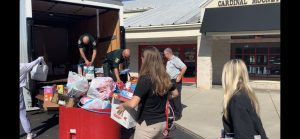 The Cardinal Mooney chapter of the St. Vincent de Paul Society collected new toys to support Andrew's Toybox in partnership with the Sarasota County Sheriff's Office. The donated toys by Cardinal Mooney students will benefit the 12th Judicial Circuit of Florida Guardian ad Litem Program. Donations were picked up by the Sheriff's Department, Dec. 13, 2021. That's not all, the Sunshine Meadows Nursing Home in Sarasota will be receiving Christmas gifts that are purchased by the Cardinal Mooney staff and families. The 38 residents will be receiving the needed items on their Christmas list. Mooney students also volunteered to assist the Longboat Key Kiwanis fundraiser for the Children's Charity Scholarship Luncheon on Dec. 4 by assisting guests and serving food to attendees. The Cardinal Mooney band performed for shoppers at the University Town Center on Dec. 6 to showcase members of the band and experience the sounds of the season.
Police escort students – students enjoy lights and sirens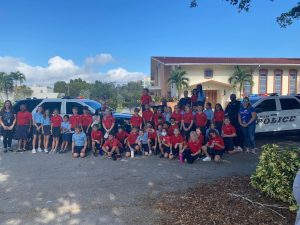 St. Francis Xavier Catholic School reached out to the Fort Myers Police Department Dec. 9, 2021, for a simple request to help their students cross a busy intersection so they could attend an event. Of course, FMPD had to make sure they crossed in style with lights and sirens. The kids were ecstatic to have the officers there escorting them and they officers enjoyed it just as much.
Older students teach about saints to schoolmates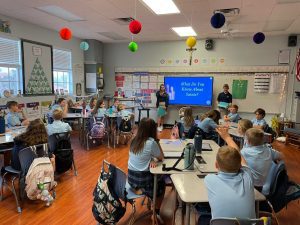 The eighth graders at Epiphany Cathedral Catholic School in Venice took time out of their busy schedule to teach what they know about the saints to students in other classrooms. On Dec. 7, 2021, the students visited the fifth graders, asking questions such as "What do you know about saints?" or "What qualities do saints possess?" This opened up a lively discussion where it was learned that many saints are known for doing the small things in service to Christ well, something they should learn to emulate in their own lives.
Students organize food and toy drives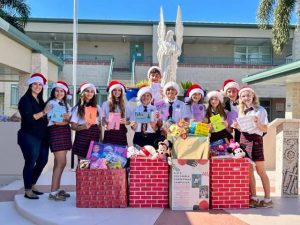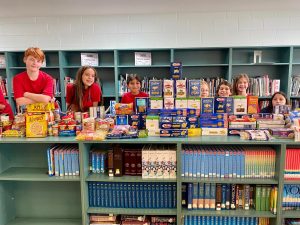 The St. Ann Catholic School Student Council sponsored a food drive for St. Matthews House in Naples to help fight hunger and poverty in Southwest Florida collecting all of their items on Dec. 7, 2021. At the same time, the S.O.S. Colombia Christmas Campaign gathered boxes of clothes and toys for Christmas, while collecting money for needy children in Bogota, Colombia.