Young adult group meets in Sarasota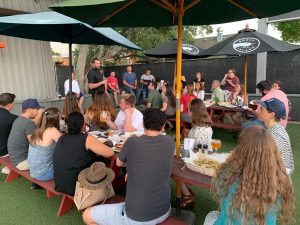 Young adults gathered for a night of food and fellowship July 21, 2022, at the Mandeville Beer Garden in Sarasota, 428 N. Lemon Ave, Sarasota. Father Eric Scanlan, Pastor of Incarnation Parish in Sarasota, spoke to all about the importance of living as a disciple! This young adult group meets at 7 p.m. on the third Thursday of each month for fellowship, prayer and fun. For more information, please contact Carrie Harkey at harkey@dioceseofvenice.org.
Verot bowlers make junior championship event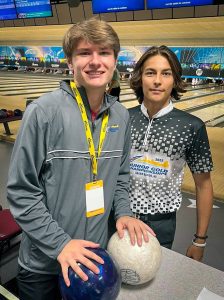 Two Bishop Verot Catholic High School seniors, Adam Belof and Gavin Hart, spent the week of July 18-22, 2022, in Grand Rapids, Michigan, representing Southwest Florida at the Junior Gold Bowling Championships. This is an annual national tournament for the top male and female youth bowlers in the United States. Only the best bowlers in the nation qualify, and these two certainly represented the Fort Myers area and Bishop Verot very well!
Football players help nearby Parish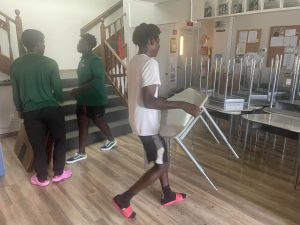 Members of the St. John Neumann Catholic High School football team took a break from practice on July 23, 2022, to do some community service at nearby St. Elizabeth Seton Parish and Catholic School in Naples. The team assembled new desks for the elementary school and refurbished the pews in the church. It was noted that team bonding does not just happen on the football field.
Catholic Charities Summertime Appeal ongoing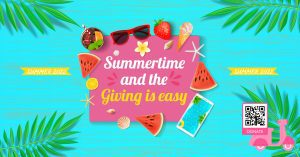 Every day, Catholic Charities, Diocese of Venice, Inc., serves its most vulnerable population by feeding, housing, empowering, and helping all in need. This summer, you can be the one that makes a difference. Your acts of kindness have the power to transform lives and leave a positive impact in our community. The Catholic Charities "Summertime and the Giving is Easy Appeal" is asking for your support. The giving is easy! Your gift will make a positive impact on our less fortunate brothers and sisters! Please visit www.catholiccharitiesdov.org or mail a check to Catholic Charities, 1000 Pinebrook Road, Venice, FL 34285.
First Friday Prayer Intention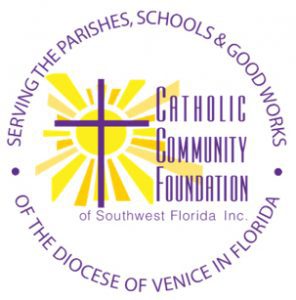 The Catholic Community Foundation of Southwest Florida Inc. invites you to join them, Friday, August 5, 2022, for a prayer session led by Bishop Frank J. Dewane on https://www.facebook.com/ccfdov for all of the prayer intentions that were submitted for the First Friday Prayer Intentions. Everyone is encouraged to submit their prayer intentions in the comment section of the video post on Facebook. The Foundation also posts the video at www.ccfdioceseofvenice.org. If you would like to submit a private prayer via email, please send it to CCF@dioceseofvenice.org. Please know that First Friday Prayer Intentions with Bishop Dewane are a free service brought to you by the Catholic Community Foundation and donations are not expected nor encouraged as part of this program. To learn more about the First Friday Prayer Intentions with Bishop Dewane you can visit our website at https://ccfdioceseofvenice.org/first-friday-prayer-intentions/
Walking With Moms in Need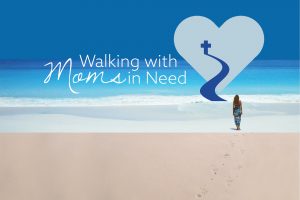 Would you know how to help a pregnant woman in need? Maybe it's your daughter, granddaughter, niece, cousin, sister, or neighbor. Maybe it's someone you see in a store, restaurant, or church. Perhaps she is crying, looks distraught or is obviously being treated poorly by someone. Through a new national initiative from the United States Conference of Catholic Bishops (USCCB) called Walking with Moms in Need, now you will know how to help. Walking with Moms in Need teaches the faithful how to help pregnant women in need, starting by letting them know they are not alone. The nationwide Catholic program calls every parishioner to learn the names of their local pregnancy help centers, the first responders for women with unexpected or difficult pregnancies. If you know of someone who is pregnant and needs help immediately, visit https://dioceseofvenice.org/walking-with-moms-in-need.
Marriage Conference coming in October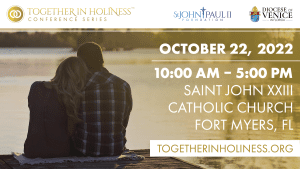 Registration is now open for the Diocese of Venice Oct. 22, 2022, "Together in Holiness" Marriage Conference, presented in partnership with the Diocese of Venice Office of Family Life and the St. John Paul II Foundation. To register, please visit https://forlifeandfamily.org/events/th22-vnfl/. Bishop Frank J. Dewane said, "It is my pleasure to welcome the second annual Together in Holiness conference to the Diocese of Venice on October 22, the Feast of St. John Paul II. An invitation to all married and engaged couples to join me at this inspiring event is warmly extended. This day of prayer and presentations will enable each couple to reflect upon the great gift of the marriage vocation entrusted to them. I pray that through the intercession of St. John Paul II, the 'Pope of the family,' this day will be fruitful for all." This marriage enrichment conference will take place from 10 a.m. to 5 p.m. at St. John XXIII Parish in Fort Myers. Couples will enjoy a day of quality time with their spouse accompanied by dynamic presentations and the availability of the Sacraments, along with access to on-site childcare. This special event is for all couples, engaged, newlywed or long-married!
National Eucharistic Revival
A three-year revival of devotion to the Real Presence of Jesus in the Eucharist begins with the Diocesan phase, from June 19, 2022, through June 11, 2023. During the Diocesan Year, there will be a series of events and retreats that encourage the renewal of the Church "by rekindling a living relationship with the Lord Jesus Christ in the Holy Eucharist." The pinnacle of the coming year will be a Diocesan Eucharistic Congress on March 24 and March 25, 2023. This event, which is in the early planning stages, will take place at the Convention Center and Luminary Hotel on the Fort Myers riverfront. The National Eucharistic Revival is a focused effort by the U.S. Catholic Bishops to revive a devotion to and belief in the Real Presence of Jesus in the Eucharist. To learn more about the National Eucharistic Revival, visit www.eucharisticrevival.org. Stay tuned for more information for the Diocesan Eucharistic Congress by visiting https://dioceseofvenice.org/offices/offices-departments/eucharistic-congress-2023/.
"Witnessing Faith with Bishop Dewane"
Join Bishop Frank J. Dewane for his monthly radio program on Relevant Radio on 106.7 FM and 1410 AM in Fort Myers and 93.3 FM and 1660 AM and in Naples. "Witnessing Faith with Bishop Dewane" can be heard at 8:30 a.m. on Friday, July 29. Outside of the listening area, access to the program is available at https://dioceseofvenice.org/our-bishop/relevant-radio-podcasts.
Support after abortion – Project Rachel
Most women who choose abortion eventually realize that they made the wrong choice and face a lifetime of regret. Even if they confess this sin to a priest, they often find it difficult to accept God's forgiveness and forgive themselves. Project Rachel is the Catholic Church's program to help women and men come to terms with an abortion decision and find the hope and healing they need. Watch for more on post-abortion healing in the next edition of The Florida Catholic. For confidential help in English and Spanish, call 941-412-5860 or email project.rachel@dioceseofvenice.org.
Do You Need Help?
If you need assistance from Catholic Charities for food, financial assistance, or tele-mental health counseling, please call 941-355-4680 in Sarasota, Manatee, DeSoto, Hardee, and Highlands Counties; 239-390-2928 in Charlotte, Lee, Hendry, and Glades Counties; and 239-793-0059 in Collier County between the hours of 9:00 a.m. and 5:00 pm., Monday to Friday.
Retreat Center Fall Schedule Available Online
The Our Lady of Perpetual Help Retreat Center (OLPH) fall group retreats are now available for registration at www.olph-retreat.org. This includes a new one-day retreat on "Meditation in the Catholic Tradition," scheduled for Saturday, October 22, the biannual silent Ignatian Preached Retreat, scheduled for Friday, November 18 to Monday, November 21, and the Monthly Day of Prayer series. Would you rather a private, directed retreat? OLPH offers 3-night, 5-night, and 7-night private retreats. To learn more about these retreats, please call 941-486-0233 or visit www.olph-retreat.org.
Food pantry needs help
The St. Joseph Food Pantry in Bradenton is in need of peanut butter. This staple is an important part of the pantry's Family Bags and provides a key source of protein for children in need in Manatee County. The Food Pantry is happy to accept bulk, large, and small containers of peanut butter, as well as other non-perishable food items. If you wish to make a financial contribution, your donation can be doubled thanks to a partnership with the Flanzer Trust. Donations can be delivered to 2704 33rd Ave. W. Bradenton, FL  34205, Monday thru Friday 9 a.m. till noon. Please call 941-756 3732 or email directors@stjoepantry.com if you have any questions or if you need to make arrangements for drop off. For more information about how you can help, please visit www.stjoepantry.com.