Where is Totus Tuus this Week?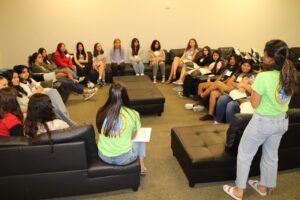 Totus Tuus (a Latin phrase meaning "totally yours") is a summer Catholic youth camp program dedicated to sharing the Gospel and promoting the Catholic faith through evangelization, catechesis, Christian witness and Eucharistic worship. During the week of June 12-16, 2023, the team was at St. Agnes Parish in Naples. The weeklong Parish summer catechetical camp assists parents and parishes in evangelizing and catechizing the youth by complementing the work they are already doing at the Parish and at home. This summer the program is offered at 11 parishes in the Diocese of Venice with three sessions now completed. The week-long camps are divided into two sessions, with the day camp for students entering grades 1 – 6, and the evening camp for middle school and high school students entering grades 7 – 12.
The remaining Parishes hosting the program are as follows:
Ave Maria in Ave Maria and St. Peter the Apostle in Naples, June 18-23;
Catherine in Sebring, June 25-30;
Our Lady Queen of Heaven in La Belle, July 9-14;
John XXIII in Fort Myers and St. Patrick in Sarasota, July 16-21;
Epiphany Cathedral in Venice and Our Lady of the Angels in Lakewood Ranch, July 23-28.
Several parishes still have limited openings for this program. To inquire, please contact the individual Parish religious education office by visiting https://dioceseofvenice.org/find-a-parish/. For further information regarding this program, please visit https://dioceseofvenice.org/totustuus2023/.
Students work to protect Everglades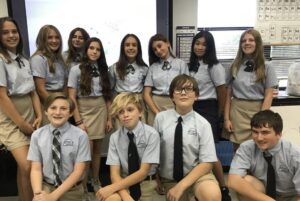 A dedicated team of 12 seventh grade students from the National Junior Honor Society of St. Andrew Catholic School in Cape Coral, participated in a community service project to protect the Everglades. Our "Everglades Champions" worked for several months earlier in 2023 to understand issues involving water quality and seagrass habitats, learn about policies and practices associated with water quality, and implement goals and strategies to affect positive change in the community. Their goal was to promote healthy water quality and seagrass habitats by educating the community about the harm posed by fertilizer run-off and encourage the community to NOT fertilize lawns during the rainy season. To reach their goal, the students implemented a multi-faceted strategy. They created informational posters and artwork which is on display at the Cape Coral Library through the end of June. They delivered letters and flyers to local hardware stores, and they posted their message on social media. The students were recognized by the Everglades Foundation during a virtual celebration event on June 2, 2023.
Knights on Bikes begin evangelization efforts in Collier County
On Sunday, June 4, 2023, the Knights of Columbus Knights on Bikes rode from Ave Maria to San Marco Parish on Marco Island to participate in Mass as a Knight honor guard. The Knights on Bikes in the Diocese are under the leadership of Chair Pete Battle, whose mission is to evangelize to the Catholic community and to those willing to listen to the message of Christ, as they live and witness faith as motorcyclists. Their motto is "In God we trust and ride." The Knights on Bikes are involved in charity rides, toy drives, fund raising rides for vocations and local Knight's councils. The Knights on Bikes will next be participating in Mass will be at Our Lady of Light Parish, 19680 Cypress View Drive, Fort Myers, at 10:30 a.m., on July 23. Any Parish interested in hosting the Knights on Bikes can reach out to Pete Battle at 239-601-6061.
Independence Day Bike and Golf Cart Parade
The Knights of Columbus Ave Maria Assembly 3862 is hosting the 6th annual "God Bless America" Independence Day Bike and Golf Cart Parade, at 10 a.m., July 4, 2023. The ceremony starts in the Piazza of the town and will include a reflection from an Ave Maria veteran on the "Blessing of Freedom," then patriotic songs, prayers for our country, then a "Blessing of the Bikes." The parade, which will include bikes, trikes, golf carts, skateboards, strollers (decorated or not), will be led by a fire truck and pass through several neighborhoods, ending approximately 2 miles later back in the Piazza where there will be treats available. All are welcome. For more information, contact Dominick Micillo at 904-536-1480.
Summertime and the Giving is Easy Appeal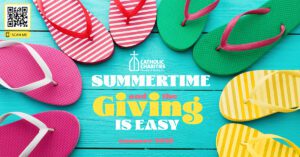 Every day, Catholic Charities, Diocese of Venice, Inc., serves the area's most vulnerable population by feeding, housing, empowering, and helping all in need. This summer, you can be the one that makes a difference. Your acts of kindness have the power to transform lives and leave a positive impact in our community. The Catholic Charities Summertime and the Giving is Easy Appeal is asking for your support. The giving is easy! Your gift will make a positive impact on our less fortunate brothers and sisters! Please visit www.catholiccharitiesdov.org or mail a check to Catholic Charities, 1000 Pinebrook Road, Venice, FL 34285.
Ordination to the Priesthood July 15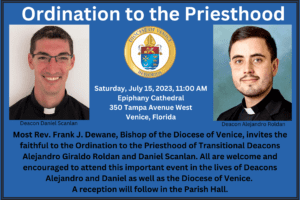 Bishop Frank J. Dewane invites the faithful to the Ordination to the Priesthood of Transitional Deacons Alejandro Giraldo Roldan and Daniel Scanlan. The Ordination will take place at 11 a.m., Saturday, July 15, 2023, at Epiphany Cathedral, 350 Tampa Ave. W., Venice. All are welcome and encouraged to attend this important event in the lives of Deacons Alejandro and Daniel as well as the Diocese of Venice. A reception will follow in the Parish Hall.
Free counseling services available
Did you know that Catholic Charities offers FREE counseling and Psychotherapy? If you or someone you know is ready to take the first step towards healing and wellness, call 888-249-9296. Catholic Charities serves ALL that come to us for help, regardless of race or religion.
Support pregnant mothers in need
Looking for a way to help pregnant women in need?  Your tax-deductible donation will help with rent, utilities, or other necessities.  Give to the Catholic Charities Pennies for Babies Fund, 1000 Pinebrook Road, Venice, FL 34285 where no administrative fees are taken from any donations. Questions?  Contact Jeanne Berdeaux, Berdeaux@dioceseofvenice.org or 941-374-1068.