Living rosary launches students into Spring Break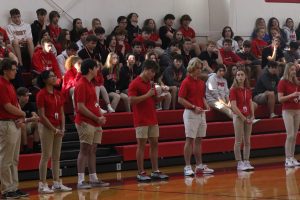 On March 11, 2022, the student body of Cardinal Mooney Catholic High School in Sarasota participated in praying a living rosary as a lead up to Spring Break. A living rosary consists of people representing each bead of the rosary. Each person then leads one prayer of the rosary. Different grade levels represented different decades, including one in Spanish. This was the last group gathering for the students before going on Spring Break.
Ukraine Relief
As the world continues to pray for peace and for the victims of the war in Ukraine, the Diocese of Venice has made it possible for the faithful to support charitable relief and assist in providing humanitarian aid, as well as necessary recovery efforts. Donations may be sent to the Diocese of Venice, with "Ukraine" indicated in the memo or note line at the following address: Diocese of Venice in Florida, Ukraine Relief, 1000 Pinebrook Road, Venice, FL 34285, or visit https://dioceseofvenice.org/ways-to-give/ and click the donate button. Also, please keep the people of the Ukraine in your prayers.
Students take part in leadership retreat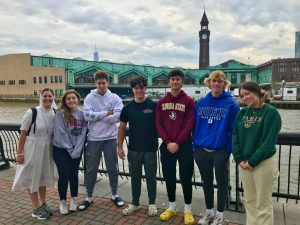 St. John Neumann Catholic High School students, along with Sister April Hoffman, FMA, attended the Salesian Leadership Retreat the week of March 7-11, 2022. The retreat is run by the Salesian Sisters of St. John Bosco, which is the same religious order that leads Neumann. The group stopped in Hoboken, N.J., for a little sightseeing excursion before traveling to Haledon to meet up with more of the Salesian family. While on the retreat, the warm-weather Neumann Celtics also got a taste of snow during a tour of New York City.
Artist makes mark at Naples school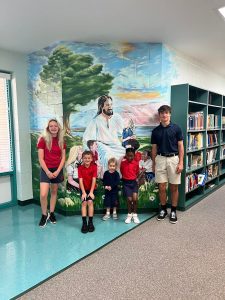 Local artist, Marcus Zotter, is at it again. He painted another amazing mural on an interior wall of the St. Ann Catholic School library. The artwork incorporates the images of five current students. Earlier in the school year, Zotter created a dolphin-themed mural on a nearby exterior wall.
Gravity and eggs = SCIENCE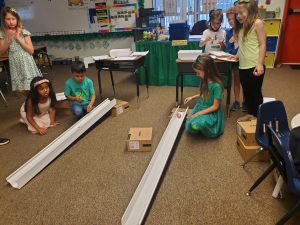 1st Graders at St. Martha Catholic School in Sarasota conducted an Easter Egg Gravity Investigation on March 11, 2022. The young scientists have been learning about gravity and after making their predictions, they did a variety of tests with different types of fresh and plastic eggs on a ramp, at varying levels and kept track of the results in a data table.
Books Team places third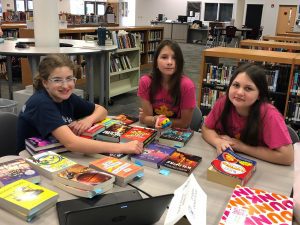 Three sixth grade girls represented St. Joseph Catholic School in Bradenton as the first ever Battle of the Books Team. The students were Anya, Bailey, and Kimberly. On March 11, 2022, the team competed against other Manatee County Schools at Braden River High School. Teams earned points by answering questions about the 15 Sunshine State Young Readers Award Books for 2021-2022. As first-time competitors, the St. Joseph girls took third place. Congratulations!