"Learned about Jesus!" "Learned about the Bible!" "Took part in fun and games at my Parish!" "Took a trip with friends from my Parish!" "God loves me, no matter what!" "I developed skills to help one day become an engineer!" "Gained a devotion to the Blessed Virgin Mary!" "Grew closer to the Lord!"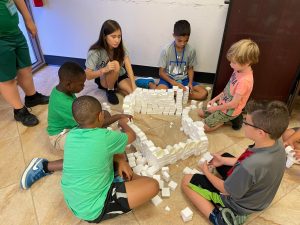 These are just some of the answers which children from across the Diocese of Venice will give to their friends and teachers when they return to the classroom and are asked: What did you do this summer?
At nearly every Parish in the Diocese there were a variety of captivating summer camps, with faith at their core. During these camps, thousands of children were engaged, and their young minds were, at least temporarily, focused on the Lord.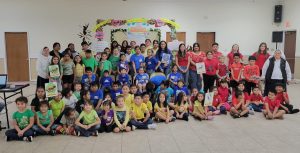 At eight Parishes, the Diocese of Venice Department of Religious Education and Office of Evangelization brought "Totus Tuus" camps for children and teens. This program was dedicated to sharing the Gospel and promoting the Catholic Faith through evangelization, catechesis, Christian witness and Eucharistic worship. The camps were directed by a team of four missionaries and two Diocesan seminarians. Parish staff and volunteers augmented the team and together they made the week memorable for all who participated.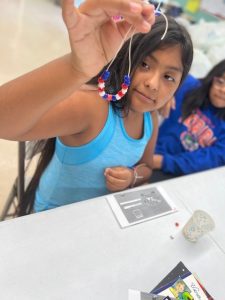 The most common of these camps is the Vacation Bible School program which was offered at more than 35 parishes in the Diocese this summer. This weeklong Bible themed camp focused on learning the important lessons of Scripture in a fun and engaging way. The two most common themes this summer were "Monumental: Celebrating God's Greatness" and "Come to Mama." At Vacation Bible School, children attended daily Mass and participated in Eucharistic Adoration. They also learned uplifting songs and dances, made crafts and generally had a great time.
Several Parishes also hosted summer activities for the teens, some included taking part in service projects, while others went on retreat, either locally or even out-of-state.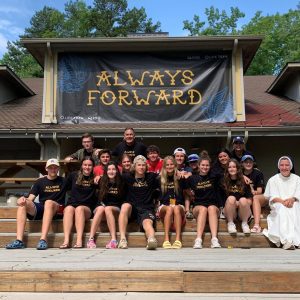 A dozen different Diocesan groups took part in Camp Covecrest 2022, a Life Teen retreat throughout the summer in northern Georgia which focuses on leading teens closer to Christ. This is an intensive retreat which focuses the teens on building their relationship with the Lord through team activities, reflection, and prayer. The focus of these retreats included Eucharistic Adoration, opportunities for the Sacrament of Reconciliation, and participating in Mass.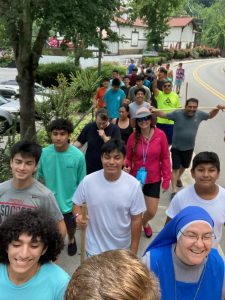 In addition, St. Michael Parish in Wauchula, took a special trip for teens to Vogel State Park in Blairsville, Georgia. This trip was led by women religious of the Servants of the Lord and the Virgin of Matará. While based at the state park, the groups began each day with morning prayers, then travelled throughout the region and made certain to attend daily Mass at one of the local Catholic Churches. The evening routine included 30 minutes of talks and small group discussion, as well as 30 minutes of Adoration of the Blessed Sacrament. Days were filled with a variety of activities, including hiking, rafting, swimming, as well as visits to water parks and more casual walks through mountain towns.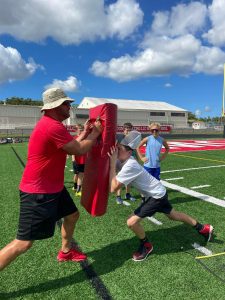 Meanwhile, multiple Diocesan Catholic schools hosted STREAM (Science, Technology, Religion, Engineering, Arts and Math) camps. Some of these camps covered several weeks and introduced the eager students to new projects such as arts and crafts, engineering various objects and other activities that incorporated the different aspects of STREAM. The longer camps stressed different skills and included field trips to augment the in-class experience. The camps actively incorporated Catholic values and virtues through the Diocesan curriculum called, "The Gifts of Christ: Truth, Beauty, Goodness, Affability, Fortitude, Humility, and Prudence."
For the athlete in many of our young people, the area Catholic high schools hosted a variety of sports camps for soccer, football, basketball, cheerleading and many others. These camps offered a chance for younger children to learn the skills needed to excel in different sports while at the same time they had fun.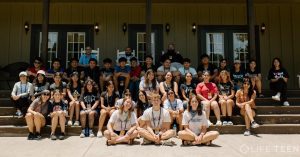 Catholic Charities in Bonita Springs held a summer-long camp for children which included a variety of fun games and projects giving the children the opportunity to show off their athletic, artistic and other skills. The campers also took a variety of fun field trips.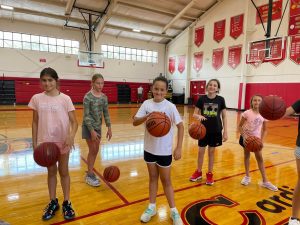 At Casa San Juan Bosco farmworker housing in Arcadia, Catholic Charities hosted a summer camp there for resident children. The activities included arts and crafts, as well as the opportunity to continue to develop their reading skills.
These are just some of the examples of the exciting activities that took place for the thousands of young people in the Diocese during the "slow" season.