Appointments
 After consultation, Bishop Frank J. Dewane announces the following:
Father Teofilo Ramirez Moreno, c.s., as Pastor of Our Lady of Guadalupe Parish in Immokalee, effective July 16, 2022, and thus, is relieved of his duties as Administrator of Our Lady of Guadalupe Parish.
Father Phillip Schweda, as Administrator of St. Bernard Parish in Holmes Beach, effective July 18, 2022, and thus, is relieved of his duties as Parochial Vicar of Ss. Peter and Paul the Apostles Parish in Bradenton.
Father Christian Chami, as Parochial Vicar of Holy Cross Parish in Palmetto, effective July 18, 2022, until September 30, 2022. Father then returns to Rome to complete his Licentiate Studies at the Pontifical Atheneum of St. Anselm.
Father David Portorreal, as Parochial Vicar at St. Leo the Great Parish in Bonita Springs, effective July 18, 2022.
Father Michael Young, as Parochial Vicar at St. John XXIII Parish in Fort Myers, effective July 18, 2022.
Father Saji Ellickal Joseph, M.C.B.S., as Parochial Vicar at Our Lady of Lourdes in Venice, effective July 25, 2022, and thus, is relieved of his duties as Parochial Vicar at St. John XXIII Parish in Fort Myers.
Religious sister, teacher, dies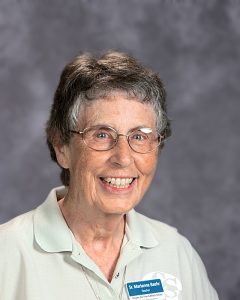 Sister Marianne Baehr, a Sister of St. Joseph of Carondelet, and longtime teacher at St. Mary Academy and St. Martha Catholic School in Sarasota, died at St. Joseph's Provincial House, Latham, New York on July 10, 2022, at the age of 80. Sister Marianne entered the Sisters of St. Joseph in 1960, professing vows final vows in August 1967.  She gained a degree from the College of Saint Rose, Albany, New York, and an advanced degree in education from SUNY Cortland, New York. For many years Sister ministered as a teacher and administrator in the schools of the Diocese of Syracuse, Sister Marianne moved to the Diocese of Venice when her brother, Father David Baehr, retired to the area. Within the Diocese, Sister Marianne was a teacher at both St. Mary Academy and St. Martha Catholic School between 2005 and 2017 before her retirement retiring to the Provincial House in Latham. A Mass of Christian Burial took place on July 20, 2022, at the St. Joseph's Provincial House. Sister Marianne was predeceased by her parents and brother, Father David. Please pray for the repose of the soul of Sister Marianne Baehr.
Third Emmaus Congress held in Bonita Springs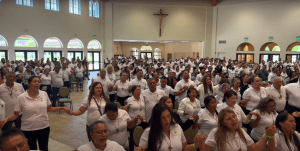 Hundreds gathered for the 3rd Congress of Emmaus (Emaus) held July 16, 2022, at St. Leo the Great Parish in Bonita Springs. The event, which was in Spanish, was for those who have completed an Emmaus weekend retreat in the past and served as an opportunity to renew and recapture the fire that grew in them during their first retreat. This was the first Congress of Emmaus since 2019. The gathering at St. Leo the Great included music and reflections with a particular focus on the Eucharist, with Adoration and the Chaplet of Divine Mercy. The day culminated with the Holy Sacrifice of the Mass. The Emmaus retreat program is a Diocesan-approved retreat weekend that takes place three times a year in both English and Spanish. It is open to all men and women ages 20 or older seeking to grow in their relationship with Christ regardless of their present level of faith and practice. To learn more about Emmaus retreats across the Diocese, contact your local parish or email emaus@dioceseofvenice.org or emmaus@dioceseofvenice.org.
Knights present check to benefit Ukrainian Relief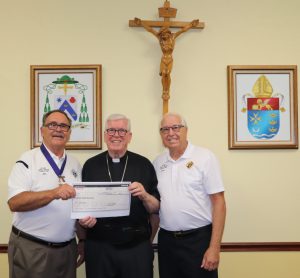 Two members of the Knights of Columbus, Father John J. Walsh Council 7052, of Venice, presented a check for $4,550 to Bishop Frank J. Dewane at the Catholic Center in Venice on July 12, 2022. The money was collected to support the Ukrainian Relief Fund of Catholic Relief Services, which is the designated agency in the U.S. to work with local Church partners to distribute lifesaving supplies like food and water. Anyone interested in supporting Ukrainian Relief can send Donations to the Diocese of Venice, with "Ukraine" indicated in the memo or note line at the following address: Diocese of Venice in Florida, Ukraine Relief, 1000 Pinebrook Road, Venice, FL 34285, or visit https://dioceseofvenice.org/ways-to-give/ and click the donate button.
Natural Family Planning (NFP) Awareness Week 
The Church has designated the week of July 24-30 as National NFP Awareness Week. This provides an opportunity to spread the word about Catholic teaching on marriage and conjugal love. Sharing basic information about the methods of NFP and why they support God's design for love and life is at the heart of this national campaign. The Office of Family Life will be hosting free, virtual information sessions on the Creighton Model FertiltyCare System during NFP week. The Creighton Model allows women to monitor their reproductive health and couples to plan their families in a way that is moral, medically safe, and reliable. Find out if the Creighton Model System is right for you! To schedule a session contact Carrie Harkey at harkey@dioceseofvenice.org or 941-484-9543 ext. 3019. For more information about Natural Family Planning, please visit https://www.usccb.org/topics/natural-family-planning/national-nfp-awareness-week.
Catholic Charities Summertime Appeal ongoing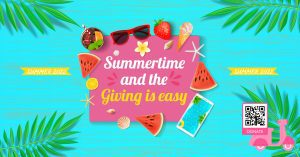 Every day, Catholic Charities, Diocese of Venice, Inc., serves its most vulnerable population by feeding, housing, empowering, and helping all in need. This summer, you can be the one that makes a difference. Your acts of kindness have the power to transform lives and leave a positive impact in our community. The Catholic Charities Summertime and the Giving is Easy Appeal is asking for your support. The giving is easy! Your gift will make a positive impact on our less fortunate brothers and sisters! Please visit www.catholiccharitiesdov.org or mail a check to Catholic Charities, 1000 Pinebrook Road, Venice, FL 34285.
Walking With Moms in Need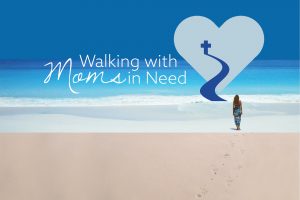 Would you know how to help a pregnant woman in need? Maybe it's your daughter, granddaughter, niece, cousin, sister, or neighbor. Maybe it's someone you see in a store, restaurant, or church. Perhaps she is crying, looks distraught or is obviously being treated poorly by someone. Through a new national initiative from the United States Conference of Catholic Bishops (USCCB) called Walking with Moms in Need, now you will know how to help. Walking with Moms in Need teaches the faithful how to help pregnant women in need, starting by letting them know they are not alone. The nationwide Catholic program calls every parishioner to learn the names of their local pregnancy help centers, the first responders for women with unexpected or difficult pregnancies. If you know of someone who is pregnant and needs help immediately, visit https://dioceseofvenice.org/walking-with-moms-in-need.
Marriage Conference coming in October
Registration is now open for the Diocese of Venice Oct. 22, 2022, , "Together in Holiness" Marriage Conference, presented in partnership with the Diocese of Venice Office of Family Life and the St. John Paul II Foundation. To register, please visit https://forlifeandfamily.org/events/th22-vnfl/. Bishop Frank J. Dewane said, "It is my pleasure to welcome the second annual Together in Holiness conference to the Diocese of Venice on October 22, the Feast of St. John Paul II. An invitation to all married and engaged couples to join me at this inspiring event is warmly extended. This day of prayer and presentations will enable each couple to reflect upon the great gift of the marriage vocation entrusted to them. I pray that through the intercession of St. John Paul II, the 'Pope of the family,' this day will be fruitful for all." This marriage enrichment conference will take place from 10 a.m. to 5 p.m. at St. John XXIII Parish in Fort Myers. Couples will enjoy a day of quality time with their spouse accompanied by dynamic presentations and the availability of the Sacraments, along with access to on-site childcare.
National Eucharistic Revival
A three-year revival of devotion to the Real Presence of Jesus in the Eucharist begins with the Diocesan phase, from June 19, 2022, through June 11, 2023. During the Diocesan Year, there will be a series of events and retreats that encourage the renewal of the Church "by rekindling a living relationship with the Lord Jesus Christ in the Holy Eucharist." The pinnacle of the coming year will be a Diocesan Eucharistic Congress on March 24 and March 25, 2023. This event, which is in the early planning stages, will take place at the Convention Center and Luminary Hotel on the Fort Myers riverfront. The National Eucharistic Revival is a focused effort by the U.S. Catholic Bishops to revive a devotion to and belief in the Real Presence of Jesus in the Eucharist. To learn more about the National Eucharistic Revival, visit www.eucharisticrevival.org. Stay tuned for more information for the Diocesan Eucharistic Congress by visiting https://dioceseofvenice.org/offices/offices-departments/eucharistic-congress-2023/. There you will find a free online course, "The Mystery of the Eucharist in the Life of the Church," which can be utilized in parishes, small groups, or for individual study.
"Witnessing Faith with Bishop Dewane"
Join Bishop Frank J. Dewane for his monthly radio program on Relevant Radio on 106.7 FM and 1410 AM in Fort Myers and 93.3 FM and 1660 AM and in Naples. "Witnessing Faith with Bishop Dewane" can be heard at 8:30 a.m. on Friday, July 29. Outside of the listening area, access to the program is available at https://dioceseofvenice.org/our-bishop/relevant-radio-podcasts.
Support after abortion – Project Rachel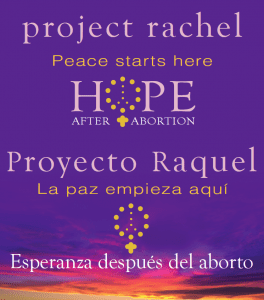 Most women who choose abortion eventually realize that they made the wrong choice and face a lifetime of regret. Even if they confess this sin to a priest, they often find it difficult to accept God's forgiveness and forgive themselves. They will often confess the same sin over and over. Project Rachel is the Catholic Church's program to help women and men come to terms with an abortion decision and find the hope and healing they need. Watch for more on post-abortion healing in the next edition of The Florida Catholic. For confidential help in English and Spanish, call 941-412-5860 or email project.rachel@dioceseofvenice.org.
Do You Need Help?
If you need assistance from Catholic Charities for food, financial assistance, or tele-mental health counseling, please call 941-355-4680 in Sarasota, Manatee, DeSoto, Hardee, and Highlands Counties; 239-390-2928 in Charlotte, Lee, Hendry, and Glades Counties; and 239-793-0059 in Collier County between the hours of 9:00 a.m. and 5:00 pm., Monday to Friday.
Retreat Center Fall Schedule Available Online
The Our Lady of Perpetual Help Retreat Center (OLPH) fall group retreats are now available for registration at www.olph-retreat.org. This includes a new one-day retreat on "Meditation in the Catholic Tradition," scheduled for Saturday, October 22, the biannual silent Ignatian Preached Retreat, scheduled for Friday, November 18 to Monday, November 21, and the Monthly Day of Prayer series. Would you rather a private, directed retreat? OLPH offers 3-night, 5-night, and 7-night private retreats. To learn more about these retreats, please call 941-486-0233 or visit www.olph-retreat.org.
Food pantry needs help
The St. Joseph Food Pantry in Bradenton is in need of peanut butter. This staple is an important part of the pantry's Family Bags and provides a key source of protein for children in need in Manatee County. The Food Pantry is happy to accept bulk, large, and small containers of peanut butter, as well as other non-perishable food items. If you wish to make a financial contribution, your donation can be doubled thanks to a partnership with the Flanzer Trust. Donations can be delivered to 2704 33rd Ave. W. Bradenton, FL  34205, Monday thru Friday 9 a.m. till noon. Please call 941-756 3732 or email directors@stjoepantry.com if you have any questions or if you need to make arrangements for drop off. For more information about how you can help, please visit www.stjoepantry.com.