St. Patrick's Day Dispensation
With St. Patrick's Day falling on a Friday (March 17) during the Lenten Season, Bishop Frank J. Dewane is granting a one-day dispensation of abstaining from meat on that Friday alone. The Faithful are encouraged to choose another day in the same week to abstain from meat and to perform some other penance or work of charity on March 17 to assist in their spiritual Lenten journey. Abstinence from meat is to be observed by all Catholics who are 14 years of age or older. Ash Wednesday and all the Fridays of Lent (including Good Friday) are days of abstinence. Fasting, almsgiving, and prayer are the three traditional disciplines of Lent.
Seminarian receives Ministry of Acolyte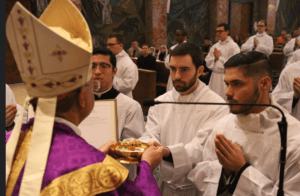 Diocese of Venice Seminarian, Joseph Corboy Doherty was one of 19 seminarians to enter into the Ministry of Acolyte on March 5, 2023, in the Chapel of the Immaculate Conception at the Pontifical North American College, Vatican City State. Archbishop Shelton J. Fabre of Louisville was the main celebrant and spoke the following words as he handed the paten to each candidate: "Take this vessel with bread for the celebration of the Eucharist. Make your life worthy of your service at the table of the Lord and of his Church." In his homily, Archbishop Fabre encouraged the seminarians, saying, "The ministry of an acolyte has a special connection to the altar and to the Eucharist. It is the duty of the acolyte to assist in serving the altar during liturgical celebrations and to attend to the Eucharist in certain functions and capacities. This is certainly an important ministry since it involves service to some of the most important elements of our Catholic faith, if not the most central element." Representing the Diocese of Venice were Father Christian Chami and Transitional Deacon Daniel Scanlan.
Verot send two to state wrestling championships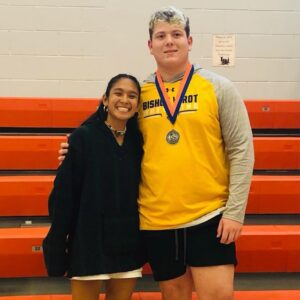 The first ever wrestling state qualifiers from Bishop Verot Catholic High School in Fort Myers competed in the State Championships on March 3-4, 2023, in Kissimmee. Gabriella Vasquez, who wrestles at 105 pounds, and became the first female wrestler in Verot history to make states, placed third in the regionals on Feb. 21. At the state competition, Gabby fell in the first round and was injured and unable to finish in the consolation round of the double-elimination tournament. The second Verot wrestler to make states is Jack Benaitis who won the regionals to qualify for the 1A 285 competition.  Jack won his open match, but fell in the second round, and again in the consolation round. These two worked hard all season long to earn a spot in the state championships, and Verot couldn't be prouder!
Medical professionals meet with Bishop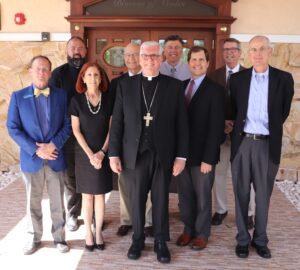 The leadership of the Southwest Florida Guild of the Catholic Medical Association met with Bishop Frank J. Dewane on March 2, 2023, at the Catholic Center in Venice. The group provided Bishop Dewane with their annual report on their latest activities, including plans for a Catholic medical educational seminar in the fall.
Support children this Easter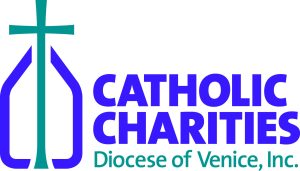 Catholic Charities Diocese of Venice, Inc. in Arcadia is seeking help in giving the gift of an Easter Basket for children of Casa San Juan Bosco farmworkers housing, local families, and migrant farm workers. Supporters can donate Easter Basket supplies, gift cards, or check to help the program bless children this Easter! Drop off or deliver items ordered online to Catholic Charities, 1210 East Oak St., Arcadia, FL 34266, by April 5.
First graders show off reading skills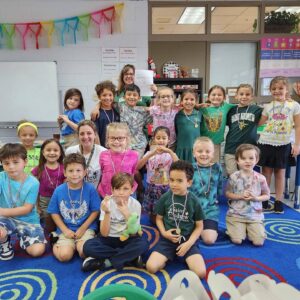 First graders at St. Andrew Catholic School in Cape Coral showed off their reading skills in February by completing 225 books in one month. Laurie Pistorio's students were recognized for their hard work on March 6, 2023. Well done young readers!!
Verot grad returns to Jeopardy!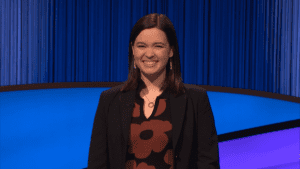 Claire Sattler, a Bishop Verot Catholic High School 2019 graduate, recently joined 27 former teen Jeopardy! contestants as they faced off in the Jeopardy! High School Reunion Tournament. The players competed for a $100,000 grand prize and a spot in the next Tournament of Champions. Sattler, now a senior at Yale University, won the 2018 Teen Tournament of Champions. In the opening quarterfinal round, which aired Feb. 27, 2023, Sattler was able to secure her win in the Final Jeopardy round because of a research paper topic that was given to her by her freshman English teacher – Lynn Chervenok Knox. In honor of her former teacher, Sattler drew a smiley face next to the winning question and wrote, "Thanks, Mrs. Knox!" With her victory, the native of Bonita Springs next appeared in the semifinals on March 6. Sattler, who had been in the lead with $8,600 going into Final Jeopardy. All three contestants failed to get the correct solution, so when Sattler bet $8,201, and dropped to $399, she ended up in third place. Well done as she continues to proudly represent Bishop Verot.
High schoolers pray "Living Rosary"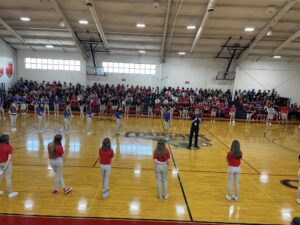 On March 3, 2023, the Cardinal Mooney Catholic High School community gathered in the gymnasium to pray the "Living Rosary," led by Father Eric Scanlan, Mooney Chaplain and Pastor of Incarnation Parish in Sarasota. During the "Living Rosary," students stood in the form of a rosary, each standing for a bead, with each class represented in a decade, including one in Spanish. This beautiful prayer was brought to life by involving everyone – body and soul.
Grandparents recognized in Ave Maria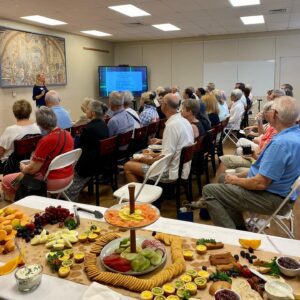 Donahue Academy of Ave Maria Catholic School in Ave Maria took time on March 3, 2023, to recognize grandparents with a special day. This event included a delicious breakfast, talk from principal Dr. Daniel Guernsey, high school choir performance, Mass with grandkids, Eucharistic Adoration, and classroom visits. Whew! See more in our stories today.
Field Day fun at Cathedral school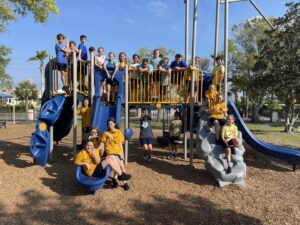 A day filled with indoor and outdoor fun made for a great field day on March 3, 2023, at Epiphany Cathedral Catholic School in Venice. There were many different games and contests between individual students, between different classrooms and even between different grades. A great time was had by all.
Fort Myers students learn about Everglades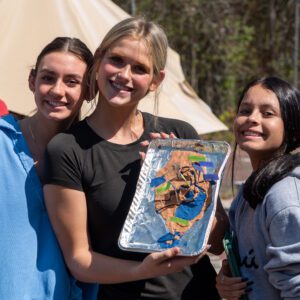 The Environmental Studies classes at Bishop Verot Catholic High School have been working on a course component with the Florida Everglades Foundation. Students recreated a diagram of the Everglades to show the impact of water levels and what we, as humans, are doing to the surrounding environment. The foundation's mission is to work to restore and protect America's Everglades through science, advocacy & education.