Reciting prayers and singing hymns, hundreds participated in a public Eucharistic Procession through the streets around St. John Neumann Catholic High School in Naples on Oct. 22, 2023.
This procession consisted mostly of the faithful from nearby St. Elizabeth Seton Parish and was led by their Pastor, Father Casey Jones, and is one of several initiatives scheduled as part of "The Year of Parish Revival," the latest phase of a National Eucharistic Revival. Launched as an initiative of the U.S. Catholic Bishops in June 2022, the National Eucharistic Revival is a three-year movement that aims to deepen Catholics' love for Jesus through encountering His Real Presence in the Eucharist.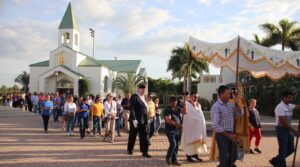 "This event is all about bringing Jesus Christ to the neighborhoods of the people," Father Jones said. "The message is that our God loves us so much that he comes to us, rather than waiting for us to approach him. Just as Jesus Christ of Nazareth walked the streets of Galilee, He's still alive and walks among us on our streets… We hope to give a witness to our belief in the Real Presence of Jesus Christ in the Eucharist as a sign of Hope to a world that needs a Savior."
Starting in Neumann's Our Lady of the Angels Chapel with Adoration of the Blessed Sacrament and Solemn Vespers, the group lined up for the Eucharistic Procession through the surrounding Golden Gate neighborhood. Father Jones said additional processions in other neighborhoods within the Parish boundaries will take place in the coming months. This includes one with the students at St. Elizabeth Seton Catholic School during Catholic School Week in early February 2024.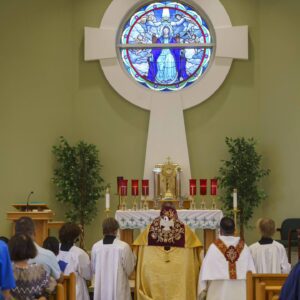 With a Knights of Columbus Honor Guard and a dozen altar servers carrying candles, Father Jones and Deacon Roberto Landron rotated carrying the monstrance with the Blessed Sacrament held high. Four volunteers carried a canopy to protect the Blessed Sacrament during the procession. This canopy served to create a sacred space that is reserved for the priest/deacon carrying the monstrance.
Hymns and prayers, both in English and Spanish, were heard as the group departed the Chapel and meandered their way to four stations where the monstrance was placed on a table and additional prayers were recited.
The National Eucharistic Revival will culminate in the first National Eucharistic Congress in the United States in almost 50 years. In July 2024, more than 80,000 Catholics are expected to join together in Indianapolis for a once-in-a-lifetime pilgrimage in a celebration of the Real Presence of Christ in the Eucharist and our Catholic Faith.
Bishop Frank J. Dewane is leading a Pilgrimage to this 10th National Eucharistic Congress in Indianapolis. This historic 5-day gathering will take place July 17 – 21, 2024. It is a pivotal moment in the Church, and a unique opportunity for participants to draw into a deeper, more intimate relationship with Our Lord.
The cost of the Diocese of Venice pilgrimage package is $1,049. With the package, pilgrims receive the National Eucharistic Congress 5-day pass, which provides access to all speakers and events, as well as four nights' accommodations in a 4-star hotel within walking distance of the convention center. Please note, the pilgrimage package does not include transportation or meals. Space is limited! Register today using https://ctscentral.rezmagic.com/Booking/Reservation/Start?tripID=5394&CategoryId=52540. Questions? Contact Carrie Harkey, harkey@dioceseofvenice.org.