A food distribution effort in Charlotte County helping more than 1,400 individuals and families in late July was boosted by support from local members of the Society of St. Vincent de Paul (SVdP).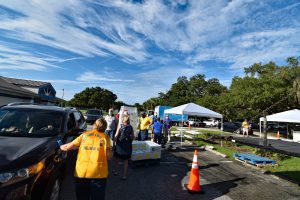 The SVdP St. Charles Borromeo and Sacred Heart Conferences participated in a USDA Farms to Family Food Box giveaway on July 24, 2020 at Franz Ross Park in Port Charlotte. This effort included distributing 1,440 boxes of food (23,040 pounds) to the community through various non-profit agencies in the area response to the COVID-19 Pandemic.
The USDA program consists of refrigerated boxes of fresh produce (fruit and vegetables, dairy and meat), which were picked up by various non-profit organizations. In addition to SVdP Conferences, food was also distributed to Villa San Carlos, a low-income senior housing facility run by the Diocese of Venice.
The Charlotte County Food Assistance Task Force, currently chaired by SVDP member Joe Sabatino, is helping to provide a coordinated response to the crisis by organizing the outreach efforts of non-profit organizations throughout the county. The Task Force has different committees providing financial assistance, business recovery, youth and education opportunities, support for special populations, and food assistance, with the various SVdP conferences actively participating.
"This is a collaboration of community resources, county government, churches, along with leadership by St. Vincent de Paul," Sabatino said.
It was a joy to behold, to watch everything come together," Sabatino said. "After a few bumps, things worked very smoothly, and we were able to distribute all the food boxes by 11 a.m. The teamwork displayed by everyone was great to see. We were all united in our mission to provide food to those in need, and more importantly to let them know that they are valued, and we care about them and their families during these deeply stressful times."
The SVdP Conferences in Charlotte County (Sacred Heart, St. Charles Borromeo, St. Maximilian Kolbe and San Antonio) each have food pantries and have remained opened throughout the crisis.
SVdP Conferences are also supporting the Harry Chapin Food Bank in Fort Myers with its distribution of food at least twice a month at Sacred Heart Parish, 211 W. Charlotte Ave., in Punta Gorda. The upcoming schedule is from 10 a.m. to noon, every other Thursday (Aug. 13, Aug. 27, Sept. 10, and Sept. 24).
For more information or to help support the needs of the SVdP Conferences in Charlotte County, please visit https://www.svdp-dov.org/charlotte/.