Mooney Beach Volleyball state Champs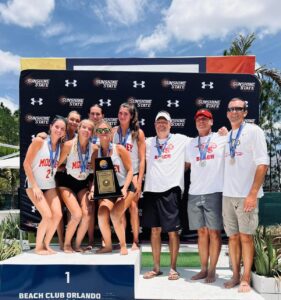 Congratulations to the Cardinal Mooney Catholic High School girls Beach Volleyball Team! They are the Sunshine State Class AA Beach Volleyball champs for the second straight year having competed at the Game Point Event Center in Orlando on April 22, 2023. In addition, the Mooney girls second team were the Silver Champions. Way to go Lady Cougars!
Theology on Tap reaches young adults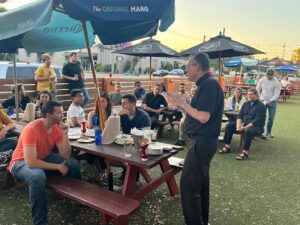 Fun, faith and fellowship were part of the monthly Theology on Tap outreach to young adults on April 20, 2023, at the Mandeville Beer Garden in Sarasota. The featured speaker in April was Father Shawn Monahan, Oblate of the Virgin Mary, assistant director of Our Lady of Perpetual Help Retreat Center in Venice. The relaxed atmosphere takes place in the garden for food and refreshments, presentations, and discussions about the Catholic Faith. Theology on Tap takes place at 7 p.m. on the third Thursday of each month The next gathering will be May 18, with special guest Father Alex Pince, a priest who was ordained in 2021 and is Parochial Vicar at Epiphany Cathedral in Venice. For more information, please contact Mathamaria Morales at morales@dioceseofvenice.org.
Teacher recognized for service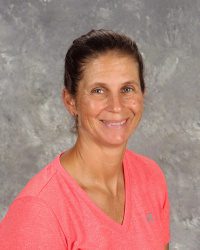 Coach Krys Kolbe has been teaching physical education at St. Joseph Catholic School in Bradenton for 23 years. She's also the school's athletic director. She was nominated as a Bay News 9 A+ Teacher in early April for always striving to inspire her students. "Krys is one of those teachers that if I had the ability to duplicate her I would," said Deborah Suddarth, the St. Joseph principal. "She is incredible." Kolbe said initially she wanted to be a doctor but quickly learned she was meant to be a teacher. She said she has always loved to play and being a physical education teacher allows her to do that every day.
School Adopt-a-Road crews in action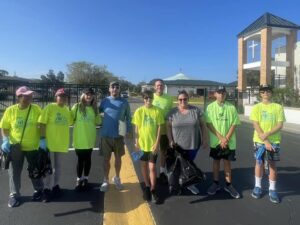 Caring for God's Creation is one of the fundamental lessons taught at each of the 15 Diocese of Venice Catholic Schools. One way to care for the planet is participating in local Adopt-a-Road programs, which is what Incarnation Catholic School in Sarasota did on April 22, 2023. The service project crew adopted the stretch of South Tuttle Avenue from Bee Ridge Road to Webber Street. They spent the day cleaning up items, supervised by teachers and parents who also participated. The group did their part to keep Sarasota, and God's creation, clean.
Neumann basketball team excelled academically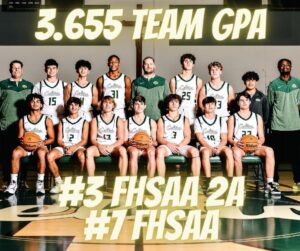 The St. John Neumann Catholic High School Varsity Boys Basketball Team finished the season with a 3.655 cumulative team GPA. This GPA is based on an unweighted 4.0 scale and earned the team the #3 rank in Florida Class 2A and #7 overall. Way to go Celtics!
Fort Myers students share biomed projects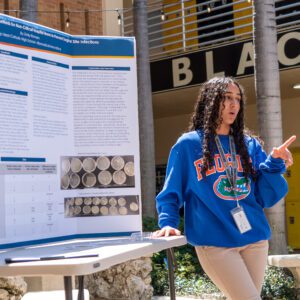 Bishop Verot Catholic High School senior biomedical students gathered in Fort Myers as four young scholars each presented their capstone projects to the student body on April 18, 2023. This presentation is a culmination of everything they have learned in the four-year program. The seniors researched a topic of interest in science and had to pursue a project that had a gap in understanding or research that had not been done before.
Author reads book to students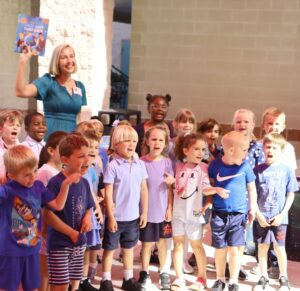 Young students at St. Ann Catholic School in Naples had a great lunch hour on April 21, 2023, with children's book author, Anya Beltsina. She visited St. Ann and read from her book "Smiley, Happy Planet Earth." The visit and reading was both educational and engaging for students.
Students create artwork to celebrate planet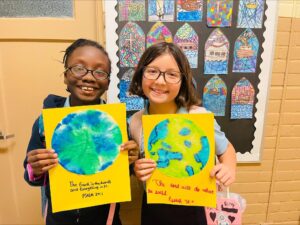 Psalm 24:1 states – "The Earth is the Lord's, and everything in it." To celebrate God's creation, fourth grade students at St. Francis Xavier Catholic School in Fort Myers did a wonderful job on their Earth Day coffee filter art projects on April 21, 2023. Using the filters and watercolors, the students were able to create their own Earth, each unique, just like the students.