Special Hurricane Ian collection to be held Oct. 22-23
Bishop Frank J. Dewane is calling on to continue to support the efforts of the Diocese of Venice and Catholic Charities in response to the destruction of Hurricane Ian. Several Parishes have lost Church buildings, and others have facilities severely damaged by the storm. In addition, many people throughout the region have endured significant suffering. To respond to these calamities, Parishes in the Diocese of Venice will take up a special collection the weekend of Oct. 22-23, 2022. The collection will help provide for the pastoral and reconstruction needs of the Church, as well as the efforts of Catholic Charities in providing both immediate and long-term assistance to those impacted. It is asked that, in face of such significant loss, those who are able consider donating to help our brothers and sisters in Christ in their time of great need.
Retired priest dies in Avon Park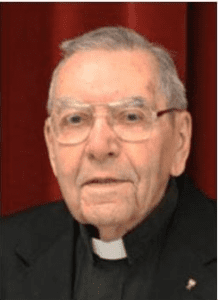 Father Leo Frechette, who was a retired priest that assisted at Our Lady of Grace Parish in Avon Park since 2007, died at the age of 93 in Sebring on Oct. 5, 2022. Father Frechette was ordained to the priesthood on June 4, 1955, and was a priest of the Diocese of Manchester, New Hampshire where he served for 40 years until his retirement in 1995. A Mass of Christian Burial was held Oct. 13, 2022, at Our Lady of Grace Parish.
Diocesan Rosary Congress a success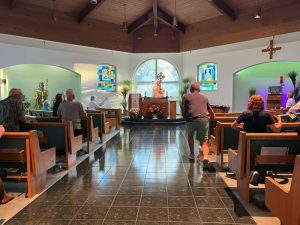 The 2022 Diocesan Rosary Congress was a huge success, even with Hurricane Ian causing a few Parishes to cancel or alter their participation. Initially, 19 Parishes were registered to offer a 24-hour period of Eucharistic Adoration, hourly praying of the rosary and the celebration of the Mass. Diocesan Evangelization Director James Gontis said that while five of 19 Parishes were forced to cancel their participation because of Ian, the balance enthusiastically stayed a part of the Congress. "It was a beautiful outpouring of Faith at each location," Gontis said, noting several had large groups while others ensured that each hour of the 24 was covered by at least one person.
Last chance to register for Oct. 22 Diocesan Marriage Conference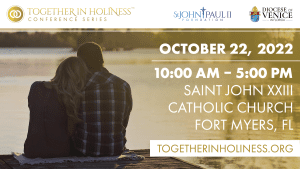 Recognizing that this is a time of suffering and trial for many, we continue to pray for those affected by Hurricane Ian. As we move forward with the mission of Christ in the Diocese of Venice, we hope you will join us at the "Together in Holiness" Marriage Conference, presented in partnership with the Diocese of Venice Office of Family Life and the St. John Paul II Foundation, is Saturday, Oct. 22. To register for the conference , please visit https://forlifeandfamily.org/events/th22-vnfl/. This marriage enrichment conference will take place from 10:00 a.m. to 5:00 p.m. at St. John XXIII Parish, 13060 Palomino Lane, Fort Myers. All Catholic married and engaged couples throughout the Diocese of Venice and beyond are welcome. Grow together in holiness, learn to form your children in the Catholic Faith, enjoy a day of quality time with your spouse and witness dynamic presentations! The day will include Holy Sacrifice of the Mass. This special event is for all couples, engaged, newlywed or long married! On-site childcare will be provided. For further information, please contact Carrie Harkey at harkey@dioceseovenice.org.
Veterans Day Mass
On Veterans Day, Friday, November 11, the Diocese of Venice will hold a Memorial Mass in honor of the men and women who have served our country and continue to serve and protect us today. This is the 13th year the Diocese has held a Mass on Veterans Day. Bishop Frank J. Dewane will celebrate the Mass at 3:00 p.m. at the Sarasota National Cemetery, 9810 State Road 72/Clark Road, approximately five miles east of I-75. The priests, deacons and Knights of Columbus in the Diocese will join Bishop Dewane for this important event. All are invited to attend, and active military personnel are asked to wear their uniform. Attendees are also encouraged to wear sunscreen and bring a hat. There is ample seating and parking at the cemetery. Please contact Gail Ardy at ardy@dioceseofvenice.org or 941-486-4714 for further information.
World Youth Day 2023 Registration Open
Registration is now open for World Youth Day 2023 to Lisbon, Portugal. You are invited to join Bishop Frank J. Dewane for the trip to Lisbon with two nights in Fatima. This 11-day pilgrimage is from July 29 to August 8, 2023. The theme for World Youth Day 2023 is "Mary arose and went with haste". (Luke 1:39) Travel arrangements are facilitated by Peter's Way Tours. Space is limited and registration must be completed by Monday, October 31. For more information, travel and registration details, please visit https://dioceseofvenice.org/offices/offices-departments/evangelization/world-youth-day-2023/.
General Election
Be an informed voter on November 8, 2022. Catholic Faithful are urged to see beyond party politics, to analyze political campaigns critically, and to choose political leaders according to principle, not just self-interest. The Florida Conference of Catholic Bishops (FCCB) has created a guide offering information about Catholic teaching on moral and social concerns facing our nation and state. The guide includes questions to help voters evaluate candidate positions on key issues for the 2022 general election. Consider using this tool for prayer and reflection before casting your ballot. Click FCCB Voter Guide/Guía de la FCCB para el Votante – Diocese of Venice for the FCCB Voter Guide and the Florida Gubernatorial Candidate Comparison.
 Elecciones Generales
Sea un votante informado el 8 de noviembre de 2022. Se insta a los Fieles Católicos a ver más allá de la política partidista, a analizar críticamente las campañas políticas y a elegir a los líderes políticos de acuerdo con los principios, no solo con el interés propio. La Conferencia de Obispos Católicos de Florida (FCCB) ha creado una guía que ofrece información sobre la enseñanza católica sobre las preocupaciones morales y sociales que enfrenta nuestra nación y estado. La guía incluye preguntas para ayudar a los votantes a evaluar las posiciones de los candidatos sobre temas clave para las elecciones generales de 2022. Considere usar esta herramienta para la oración y la reflexión antes de emitir su voto. Haga clic en FCCB Voter Guide/Guía de la FCCB para el Votante – Diocese of Venice para la FCCB Guía del Votante y comparación de Candidatos a Gobernador de Florida.
Scam Alert
In the wake of Hurricane Ian, the possibility of being contacted by someone posing to be a contractor or offering aid is heightened. There are those who will take advantage of the vulnerable during a crisis such as seen with the hurricane. Please be diligent that you are corresponding with a legitimate person or business before handing over any money or personal information. You may also be contacted with a request for money and the email will appear as though it is from one of our priests or Diocesan employees. Please make direct contact with the person by calling the Parish and asking to speak with the priest or sender of the email, and do not reply to the email or text.