Representatives from 33 Parishes and two Diocesan Catholic high schools took part in a gathering to help bolster youth outreach.
Marthamaria Morales, Diocese of Venice Director of Youth and Young Adult Ministry organized the gathering Sept. 8 and 9, 2023, at Our Lady of Perpetual Help Retreat Center in Venice. The 60 participants were those who serve youth at the Parish level, and included women religious, youth ministers, directors of religious education, and committed volunteers from Parishes that don't have staff but serve youth and young adults.
Morales said this meeting was an opportunity for those active in youth outreach across the Diocese to get to know each other, build community, share best practices, dream together, and accompany one another in this amazing journey serving young people.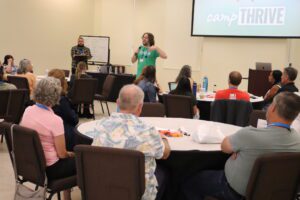 "This is the first time this wider group has gathered in one place in several years," Morales said. "It is important for them to get together because we have a few new youth ministers and some other 'seasoned' ministers serving in different Parishes. We want them to feel value and all the support not just to survive but to thrive."
Bishop Frank J. Dewane offered words of encouragement to the group and expressed his gratitude for the important role they play in the Church within the Diocese of Venice.
"These young people are the Church of today, and they need our attention," Bishop Dewane said. "It takes a certain type of individual who can rise up to answer the call to serve our young people, forming them into the person they are becoming in response to a call from God."
A youth minister's responsibility is to be the leaven in the Parish, the Bishop added, nurturing those who are present and working to help those who are absent to want to return and grow closer to the Lord.
The experience of the youth ministers in the Diocese who were present for the meeting ranged from 42 years to less than a week.
To assist, Morales brought in representatives from Project YM, a national outreach which helps youth ministers navigate the complicated world with the goal that the participants leave the gathering with a practical action plan to help bolster their young ministries.
Michael Marchand, president and co-founder of Project YM, offered sobering statistics about the current generation and how 42% of high school students are persistently sad or hopeless and approximately 22% have seriously considered suicide.
Marchand, who has more than 20 years of experience serving Catholic youth, said "it is vitally important to reach out to the youth at every level because it is about saving lives, both spiritually and literally."
Another concerning number is that 80 percent of high schoolers who are active in their faith leave the Church before they graduate from college. Of those youth who remain in the Church after college, they overwhelmingly stated that having upwards of five adult mentors (outside of family) connected to the faith made a difference in their staying active in the faith.
"This really stresses the importance of investing in serving young people as much as possible, because the reality is that no Parish will ever have a 5-1 adult to youth ratio," Marchand said.
Participants left the gathering with advice and action plans that are intended to help outreach programs increase participation and retention of youth of all ages.
One youth minister who has less than a year's experience said she greatly benefitted from the gathering, noting that she learned the importance of mentoring as well as gaining insights into what activities work the best.
Jim Brantner, of St. Francis of Assisi Parish in Grove City, who has more than four decades of serving young people, said, "Genuinely love what you do and the young people you are responsible for, and Jesus will guide you through the rest."